( Minamisoma City Councilperson Koichi Oyama succeeded in having Minamisoma Municipal Hospital disclose patient statistics from 2010-2017 for public discussion at a Council meeting on September 12, 2018. "Summary" below calculated by Etsuji Watanabe from figures in "Disorders" chart obtained by Councilperson Oyama. Note Fukushima Medical University's insistence on attributing all of these conditions to the stresses of evacuation.
Part 2 to address solid cancers and leukemia. Translation by Norma Field.)
Summary of rates in patient increase at Minamisoma Municipal General Hospital by category (2010-2017)
Obesity 28x
High blood pressure 1.86x
Diabetes 1.83x
Dyslipidema 2.08x
(low HDL levels)
Chronic kidney disease 3.65x
Liver dysfunction 3.88x
Polycythemia 4.5x
Atrial fibrillation 3.79x
Stroke 3.52x
"Disorders for which evacuation caused by the East Japan Great Earthquake can be considered a risk factor":
2010-2017 data from Minamisoma Municipal Hospital on seven disorders deemed attributable to evacuation according to Fukushima Medical University
[CLICK on charts to enlarge]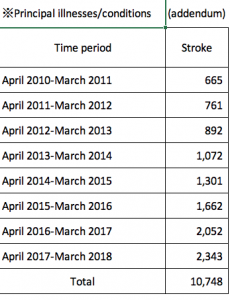 ◇Japanese post here.
◇Part 2 here.