We are pleased to announce that a special T-shirt will be available for sale at the Atomic Age symposium on May 21st. This T-shirt features a photo of a nuclear power plant in Byron, Illinois, and the dictionary definition of "downwinder:" a person who lives or has lived downwind of a nuclear test site or reactor, where the risk of being affected by radiation is greatest.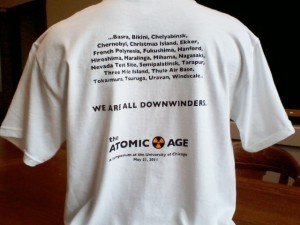 The back of the shirt includes a list of sites where activities have taken place that have resulted in people being exposed to radiation, as well as the phrase "We are all downwinders."
Shirts will be sold at the Atomic Age symposium for $10 each (cash only; we are not able to accommodate online sales). All proceeds will go towards the University of Chicago Japanese Student Association Relief & Rebuild fundraising efforts.