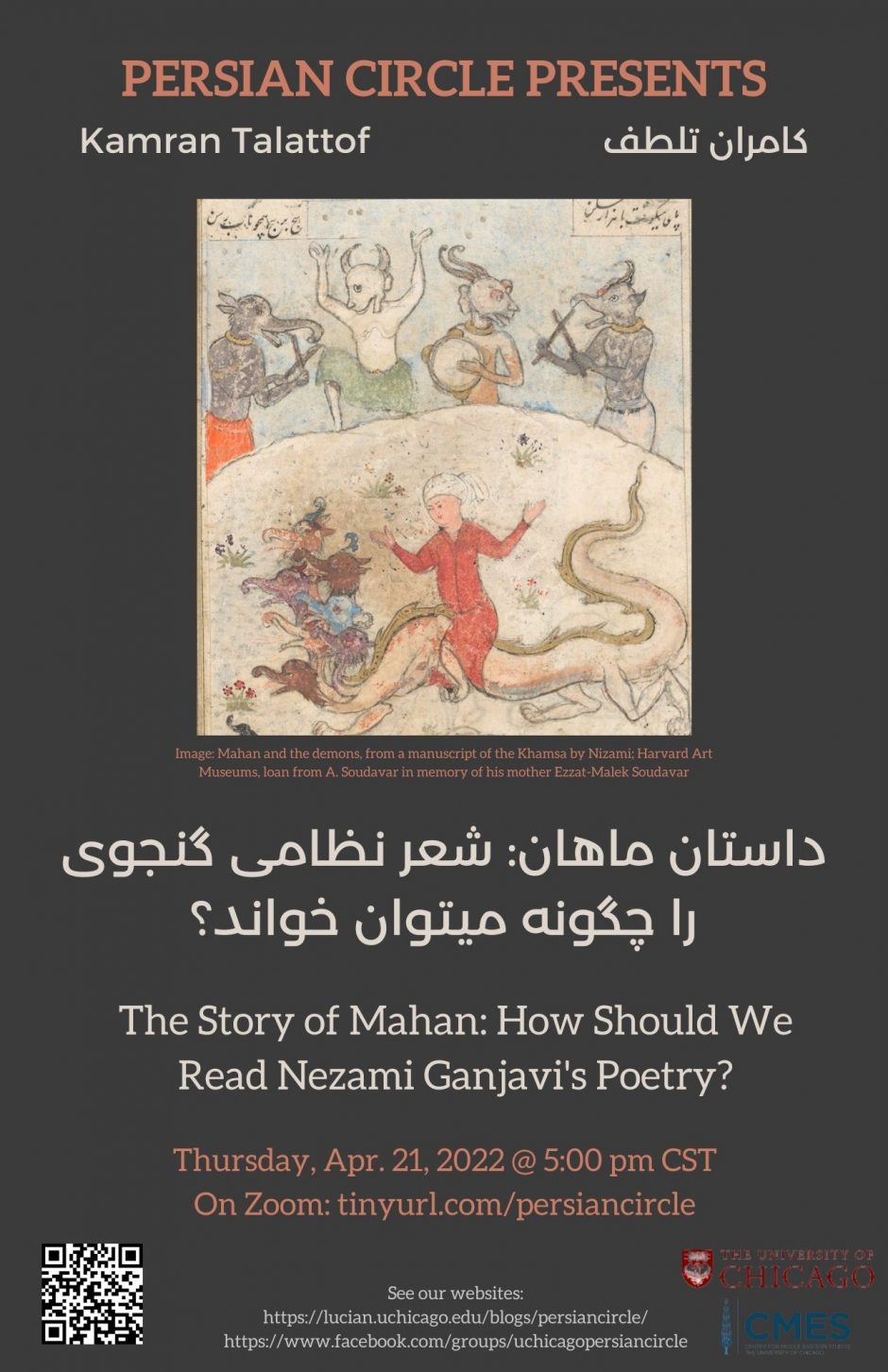 Please join us this Thursday, April 21, at 5:00 pm CST for a talk by Prof. Kamran Talattof! Kamran Talattof received his Ph. D. from The University of Michigan in 1996, and he has been teaching at the University of Arizona since 1999 after teaching at Princeton University for three years. He has taught courses on classical and modern Persian literature, Iranian cinema, Iranian history, the Persian language, and Middle Eastern women's writings. Kamran Talattof has received a few awards for his teaching and services to the field of Persian and Iranian Studies. He has served on several national and international committees within academic associations and on the editorial committees of academic journals, as well as on several ad-hoc international committees. He's authored, co-edited, and co-translated books focusing on issues of gender, sexuality, ideology, culture, and Persian language pedagogy. His articles al so focus on gender, ideology, culture, and fundamentalism. Kamran Talattof is the Founding Chair of the Roshan Graduate Interdisciplinary Program in Persian and Iranian Studies.
The title of his talk is "The Story of Mahan: How Should We Read Nezami Ganjavi's Poetry?" This talk (in Farsi) is based around a chapter from his new book, Nezami Ganjavi and Classical Persian Literature: Demystifying the Mystic.
You can join us on zoom at the following URL: https://tinyurl.com/persiancircle.
We look forward to seeing you!
لطفا این پنجشنبه در «زوم» برای سخنرانی استاد کامران تلطف با ما همراه باشید! کامران تلطف پژوهشگر ادبیات و جامعه‌شناسی فرهنگ، نویسنده و استاد دپارتمان مطالعات خاورمیانه در دانشگاه آریزونا است. او در سال ۱۹۹۶ مدرک دکترایش را از دانشگاه میشیگان دریافت کرد، پایان‌نامه‌اش دربارهٔ مفهوم تاریخ‌نگاری ادبیات در خاورمیانه بود. تلطف پس از سه سال تدریس در دانشگاه پرینستون از سال ۱۹۹۹ تاکنون در دانشگاه آریزونا مشغول به تدریس است. عرصه تحقیقات و تدریس وی شامل زبان و ادبیات فارسی، سینمای فارسی، تاریخ ایران، ادبیات سنتی و معاصر ایران، تاریخ ادبیات ایران، و آثار ادبی زنان در خاورمیانه می شود. تلطف بنیانگذار موسسه روشن در مطالعات فارسی و ایرانی است. ا
عنوان سخنرانی «داستان ماهان: شعر نظامی گنجوی را چگونه میتوان خواند؟» است. ا
در انتظار حضورتان هستیم!ا
به امید دیدار.ا