For Saving Single Images in LUNA:
Once you find an image you want to save, click on the thumbnail. This will give you a larger-sized image with cataloging information.
Double-click on "Export" button in the upper right corner.
Select the desired pixel size

If the image is going to be displayed in PowerPoint, at least 1500 pixels is sufficient.

Save the file to a specified location.
Unzip the downloaded file. The image is inside the folder and can be dropped into PowerPoint at this point.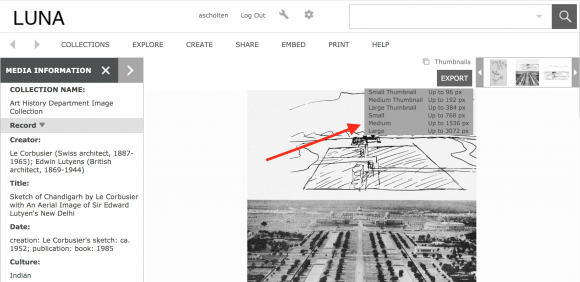 To Save a Group of Images in LUNA and Export to PowerPoint:
Either open a media group or create a new one. For information on media groups, see LUNA's video tutorial here.
The entire set of images can be downloaded from here by clicking the "Export" button at the top of the media group.
Once the media group contains all the images you want, in the order you want, click on the "Export to PowerPoint" button.
This will bundle the set, open PowerPoint, and populate a new slideshow with both images and cataloging data.