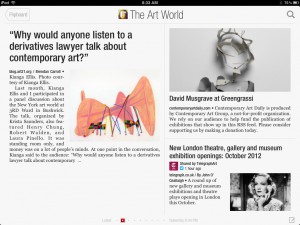 Welcome back students and faculty! To start the new school year off right, our iPad 2 is now set up in the VRC. We hope you'll come check it out in CWAC 257.
We've installed a lot of great apps about art and images that have been featured on our blog and Facebook page and other programs that are useful for art historians, including Keynote. There's also quick links to LUNA, Chalk, and ARTstor.
We also installed a great app called Flipboard, which we've set to display RSS feeds from other blogs pertaining to art, culture, and museums. Flipboard takes these feeds and displays them like a magazine [see screenshot above], making it easy to catch up on the latest news and research.
There's also a wireless keyboard to go with the iPad, so you can easily check your email, look up campus events, or catch up on the news.
And, as always, the VRC's iPad 2 can be reserved to teach and present in CWAC.
We look forward to seeing you!