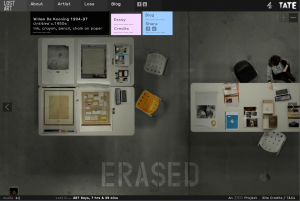 The Gallery of Lost Art is an online exhibition that tells the stories of artworks that have disappeared. Destroyed, stolen, discarded, rejected, erased, ephemeral—some of the most significant artworks of the last 100 years have been lost and can no longer be seen.

This virtual year-long exhibition explores the sometimes extraordinary and sometimes banal circumstances behind the loss of major works of art. Archival images, films, interviews, blogs and essays are laid out for visitors to examine, relating to the loss of works by over 40 artists across the twentieth century, including such figures as Marcel Duchamp, Joan Miro, Willem de Kooning, Rachel Whiteread and Tracey Emin.

Jennifer Mundy, curator of The Gallery of Lost Art, says: "Art history tends to be the history of what has survived. But loss has shaped our sense of art's history in ways that we are often not aware of. Museums normally tell stories through the objects they have in their collections. But this exhibition focuses on significant works that cannot be seen."
The virtual exhibition launched on July 2, 2012, and will be available online for only one year before it too is "lost." A new artwork will be added each week for 6 months.