Milica Bakić-Hayden: Doubly Neglected: Women and Religion in the Balkans—The Case of Orthodox Women Monastics
by Nada Petković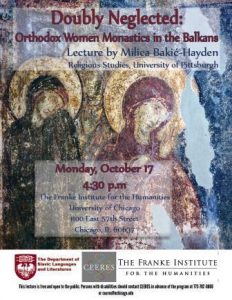 On October 17, 2016, the Franke Institute for the Humanities hosted a lecture on Orthodox
Women Monastics in the Balkans delivered by Milica Bakić-Hayden, a scholar in religious studies from the University of Pittsburgh. The event was sponsored by the Center for East European and Russian/Eurasian Studies, The Franke Institute for the Humanities, and the Department of Slavic Languages and Literatures. The paper was based on ethnographic research conducted among women monastics in Serbia over the course of the last decade. 
Starting with the wider context of Balkan women's religiosity, Bakić-Hayden began her talk by alluding to the words of Isidora Sekulić—one of the most remarkable Serbian intellectuals of the first half of the 20th century, and the first female member of the Serbian Royal Academy of Sciences—well known for her life philosophy, usually expressed in three words: work, poverty, and silence. In her book of essays from 1940, The Balkans, Sekulić noted that the Balkans had always been represented as an inherently divided region, to be rescued only by an external actor: "Foreigners and foreign politicians usually have only poor or no knowledge and experience of things Balkan. Even when they know something about it they always portray it, for the sake of a particular political interest, as a damaged ship, which keeps being rocked by the winds of discordance and intolerance, and which must inevitably be helped by some outsider in order not to sink…." In her introduction, Bakić-Hayden referred to these thoughts on "Balkan" from eight decades ago, drawing attention to additional meaning they have acquired in our times, "in which critical categories such as orientalism and balkanism have begun to frame self-awareness of many Balkan intellectuals and even, to a certain extent, the general public as well."
To preface the life histories of the contemporary women monastics, our presenter told us the story about Kassiani, best known as an early 9th century hymnographer, writer, and composer, but also as a beautiful, well-educated aristocratic maiden of Constantinople, who qualified to be bride of the emperor Theophilius (ca. 830). Following an unwelcome remark at court before the emperor, which robbed her of a chance to become Byzantine empress, Kassiani renounced her secular life, and chose the life of silence behind the walls of the monastery that she had built for herself, became its first abbess, and devoted herself to writing and composing. She is credited with 49 ecclesiastical hymns as well as 26 secular works consisting of epigrams and gnomic verses.
If in the past monasticism, as illustrated by Kassiani, provided women with an alternative to married life and social obligations, the question Bakić-Hayden asked was "What appeal could monasticism have for women nowadays, given the variety of lifestyles that exist today?" Her research focused on how female monasticism operates today in Serbian society, which has traditionally been Orthodox Christian, but witnessed radical changes and discontinuities during 45 years of communism followed by the wars of the 1990s. The speaker was inspired to understand the profile of women who entered monasteries in this period, as well as the rise in their numbers described as an increase of 20%, after comparing figures from 1987 and 1997, respectively. She highlighted this trend as a phenomenon that demands explanation, but noted throughout her talk that it is difficult to account for it.
Over the centuries women monastics in the Serbian Orthodox Church had typically issued from more noble and elite classes, and rich abbesses like Kassiani had built their own monasteries. Bakić-Hayden divided women monastics into three generations based on when they made their vows: the postwar period of the 1950s, the 1960s/70s, and the 1980s/90s. We then heard life history accounts of monastics representing each of these generations, as Bakić-Hayden explored their backgrounds and their stories about what had drawn them to the holy order. While various women recounted being irreversibly drawn to God by His divine force, for instance in hearing his voice, their social profiles varied widely in terms of class, education, profession, age, and rural vs. urban lifestyles. As for the paper's title, Bakić-Hayden characterized these women monastics as doubly neglected; since their trajectories are unknown to the world outside a narrow religious context, their voices consistently feature less prominently than those of their male monastic counterparts.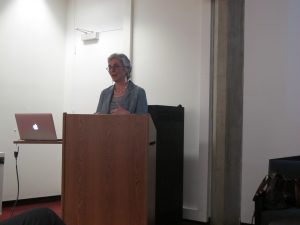 Bakić-Hayden's paper raises a series of questions. How does the phenomenon of an increase in the number of woman monastics relate to the broader dynamics of social reproduction in contemporary Serbian society? Specifically, what kind of sociality does female monasticism offer and how does it explain the appeal of the order to women of quite varied backgrounds in terms of urban vs. rural origins, class, education, and age? What affective, political, and psychological ties are part of this sociality? What representations of 'Balkan' and the Balkans are active within the church itself, and within the monastery walls inhabited by Bakić-Hayden's informants? How do they conceptualize and enact their relationships to male monastics, to external and fundamental elements in the Orthodox Church, and to a broader Christian humanism beyond the region? Where do women monastics fit into the larger economy of representation around women and their social roles in the traditionally patriarchal society of the Balkans? Finally, what can the case of women monastics teach us about how the broader population defines itself in relation to enduring global discourses of Balkan alterity and fatalism? It remains to be seen how this ongoing research will produce answers to some of these questions.