To Be Arrested in Russia
by Ariella Katz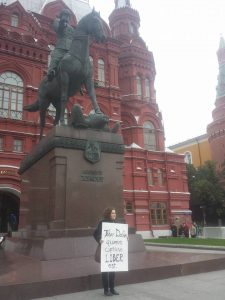 On September 19, a week before school started, I was arrested in Moscow twice. I went to Manezhnaya Square, near the entrance to Red Square with a poster that said in Latin: "Ildar Dadin quamvis captivus liber est," which means "Ildar Dadin although imprisoned is free". A few minutes later I was surrounded by police. When they saw my American passport, they told me that I had no right to protest in Russia. At the police station, I was told that this time I would be forgiven, but if I returned to the square they would be forced to press charges against me and revoke my visa.
I first heard about Ildar Dadin in the summer of 2015 when I was translating press releases for Human Rights Center Memorial about Russia's political prisoners. One of the press releases mentioned Ildar. I learned that he is one of three people in Russia to have been convicted under article 212.1, a new addition to the law on public assemblies. Under the law, all public gatherings of more than one person are illegal unless granted express permission by the state. Anyone who is found to have violated the law more than twice in 180 days can go to prison. In fact, Ildar is innocent even of breaking this law. When he would go to Manezhnaya Square with a poster demanding freedom for political prisoners, he would stand alone. At the time that I translated the press release, his case was only in its first stages. I had no idea he would actually be sentenced to 3 years in prison.
Soon my connection to him became more personal. During the same visit in 2015, I organized a protest on the Red Square where I lay under a quilt that I had made, memorializing people who had been killed by Putin's government. By chance, Anastasia Zotova, the journalist who agreed to film me and helped secure my release, was Ildar's fiancée.
A month after his conviction in December 2015, Anastasia married Ildar in a pretrial detention center in Moscow. She invited me to come to the wedding, but I couldn't go because it was in middle of winter quarter at the University of Chicago. For some reason the card that I sent her did not arrive until the middle of May. The sentence was later reduced to two-and-a-half years but that is a small consolation for Anastasia.  A new case is now being brought against Ildar for alleged hate speech in Facebook posts he wrote in 2014.  It seems that Russian authorities are trying to keep Ildar in prison indefinitely. In a letter smuggled out of prison he reports that he has been subjected to torture.
When I had dinner with Anastasia this September, she seemed scared and lonely. Telling her that I cared did not seem enough. I wanted her to know that I was willing to share at least some of the risk that Ildar took upon himself when he would go to Manezhnaya Square. He stood for all the political prisoners.  Now it was my turn to stand for Ildar.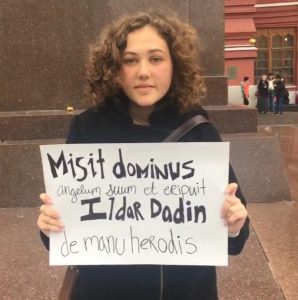 Although I was scared, I felt that I had to return to the square. So together with Irina, an activist who agreed to film me, I went to a children's superstore and bought more paper and a permanent marker. I wrote: "Dominus misit angelum suum et eripuit Ildar Dadin e manu herodis," which means in Latin: "The Lord sent his angel and rescued Ildar Dadin from the hands of King Herod." I had first seen the inscription in the church of San Pietro in Vincoli in Rome above the case where what are believed to be the chains of St. Peter are kept. As soon as I arrived at the square and raised the new poster, I was arrested again.
"Do you think this is a game? I think that there is something wrong with your head," said the officer who had spoken to me before. "You think you can scare us with your American passport?" I told him that I didn't want to scare anyone. I tried to read Absalom Absalom, which I had in my bag, but it was hard to focus because I was very hungry, so I tried writing out the lines of the Aeneid that I knew by heart instead. I could hear a lot of officers talking in the room next to me. "Latin, fuck. This is a provocation."
Several hours later, an officer who I had first mistaken for a lawyer led me into a small room. He asked me, "Did anyone put you up to it?" "Plato put me up to it," I said. "Reading the Crito during my first year in college especially the part where Socrates says that a good person can never be harmed." "Do you think that Ildar Dadin is a good person?" the officer asked. "I do."
Russian authorities want to make an example of Ildar Dadin so that others will be too afraid to tell the truth. It works, mostly. Zona Prava (which means Justice Zone) is a prison monitoring organization founded by Maria Alekhina and Nadezhda Tolokonnikova. This summer I volunteered there, working in a former wine-making factory behind an unmarked door. They told me it's to save money on the plaque. Nikolai, a programmer at Zona Prava, slept on my couch for a night because he had given his apartment to his uncle, who had just been released from a labor colony. You begin to self-censor. "Crimea" is pronounced in hushed tones in public places. Saying "Putin" has become taboo. The unspoken truth is that anyone who says anything against the regime is in constant danger.
And yet, knowing that she can face the same charges as Ildar, activists like Irina still go to protests on Manezhnaya Square.  Anastasia writes articles, creates petitions, and submits appeals. Even though they can be beaten or imprisoned, every morning my friends in Zona Prava get up and go to work.
On September 20th, after my second arrest, Irina and Nikolai waited in the rain for more than three and a half hours outside Kitai Gorod police station. When I was released they bought me French fries in Burger King to celebrate. No charges were filed and my visa, at least on paper, remains intact. As Ildar is in a penal labor colony in Karelia, in the far north of Russia near the White Sea, I am safely in Chicago studying Ancient Greek.
Ariella Katz is a third-year student in the College at the University of Chicago.
For video of her arrest go to:
https://www.facebook.com/irina.yatsenko.75/posts/1102293156527173?pnref=story