Hackers of 'Approaches to Live Electronics' busy building circuitry!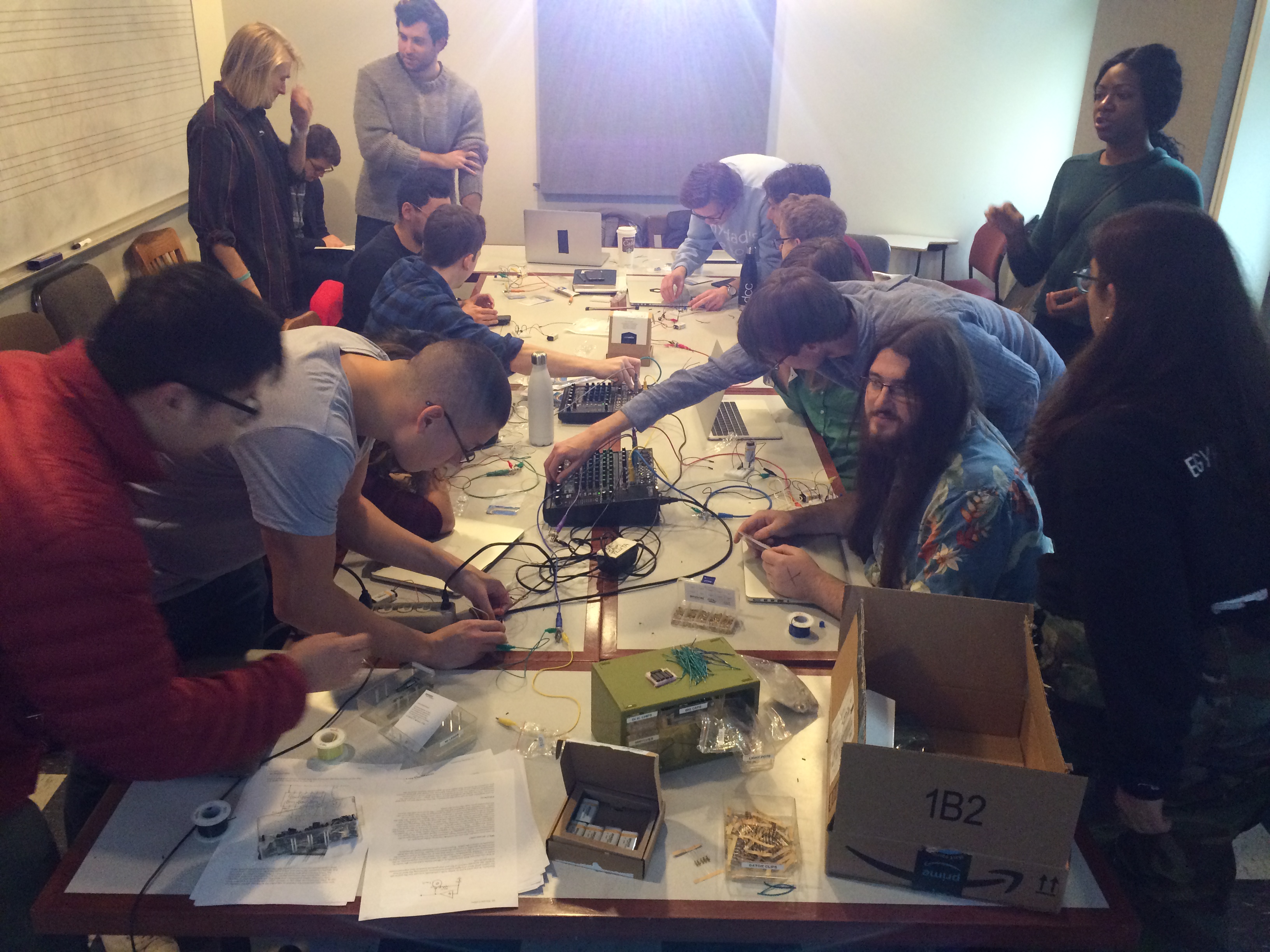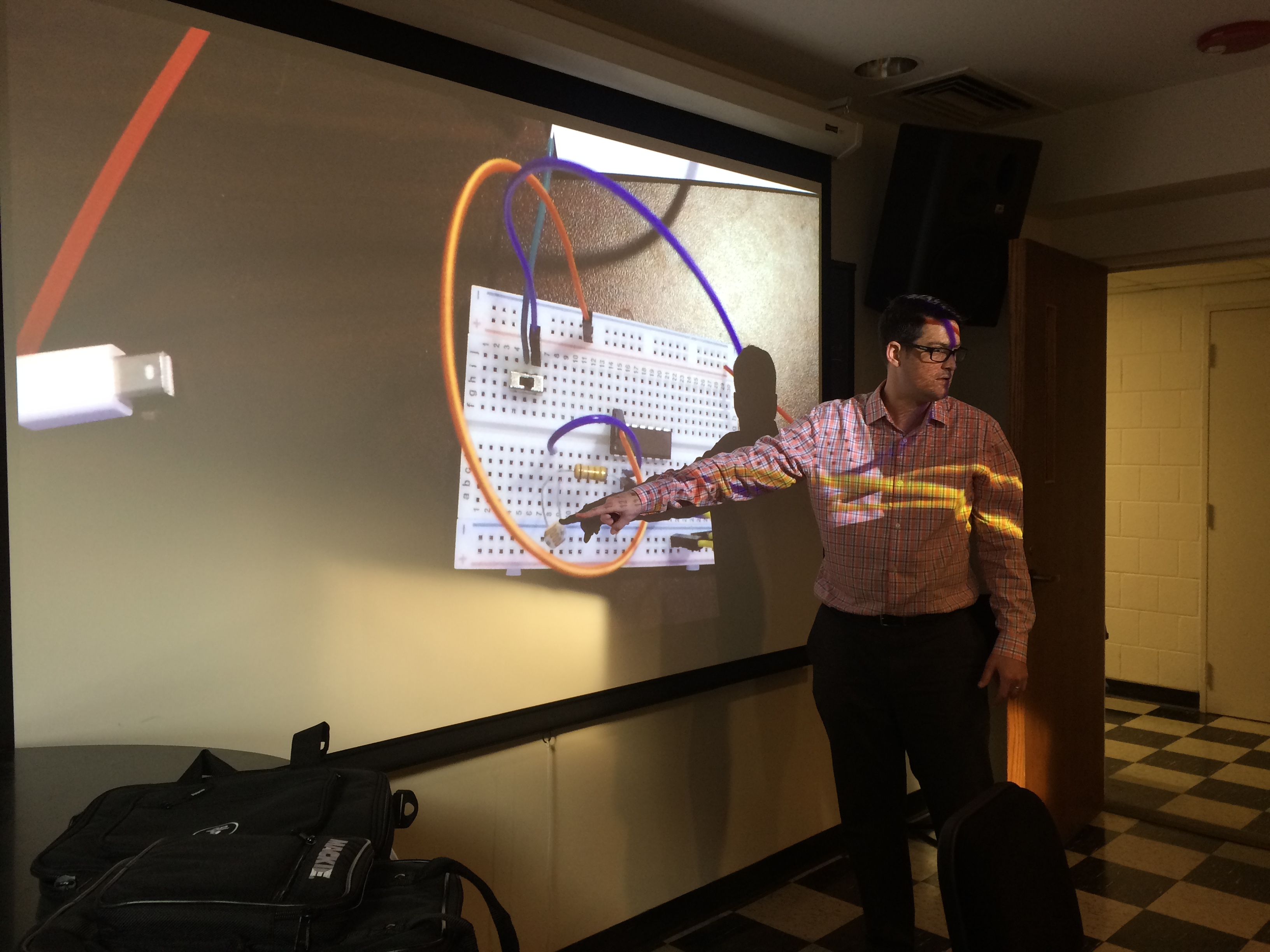 This weekend, Igor Santos runs electronics for two major opera premieres by Ensemble Dal Niente: Eliza Brown's "The Body of the State" and Katherine Young's "When Stranger Things Happen", both directed by Emmi Hilger.
WHEN: Friday, October 20, 7pm; Saturday, October 21, 7pm; Sunday, October 22, 3pm
WHERE: The EDGE Theater (5451 North Broadway, Chicago, IL 60640)
More info: http://www.dalniente.com/piece-her-together
Chimer Igor Santos performed his work "between spaces" (for vibraphone, spatialized percussion ensemble, and electronics) this week, during the Logan Center for the Art's 5th Anniversary Celebration. The piece was commissioned specifically for Logan's woodshop and combines found shop objects, traditional percussion instruments, live electronics, synchronized lighting, and theatrics, to create an immersive and interactive soundscape.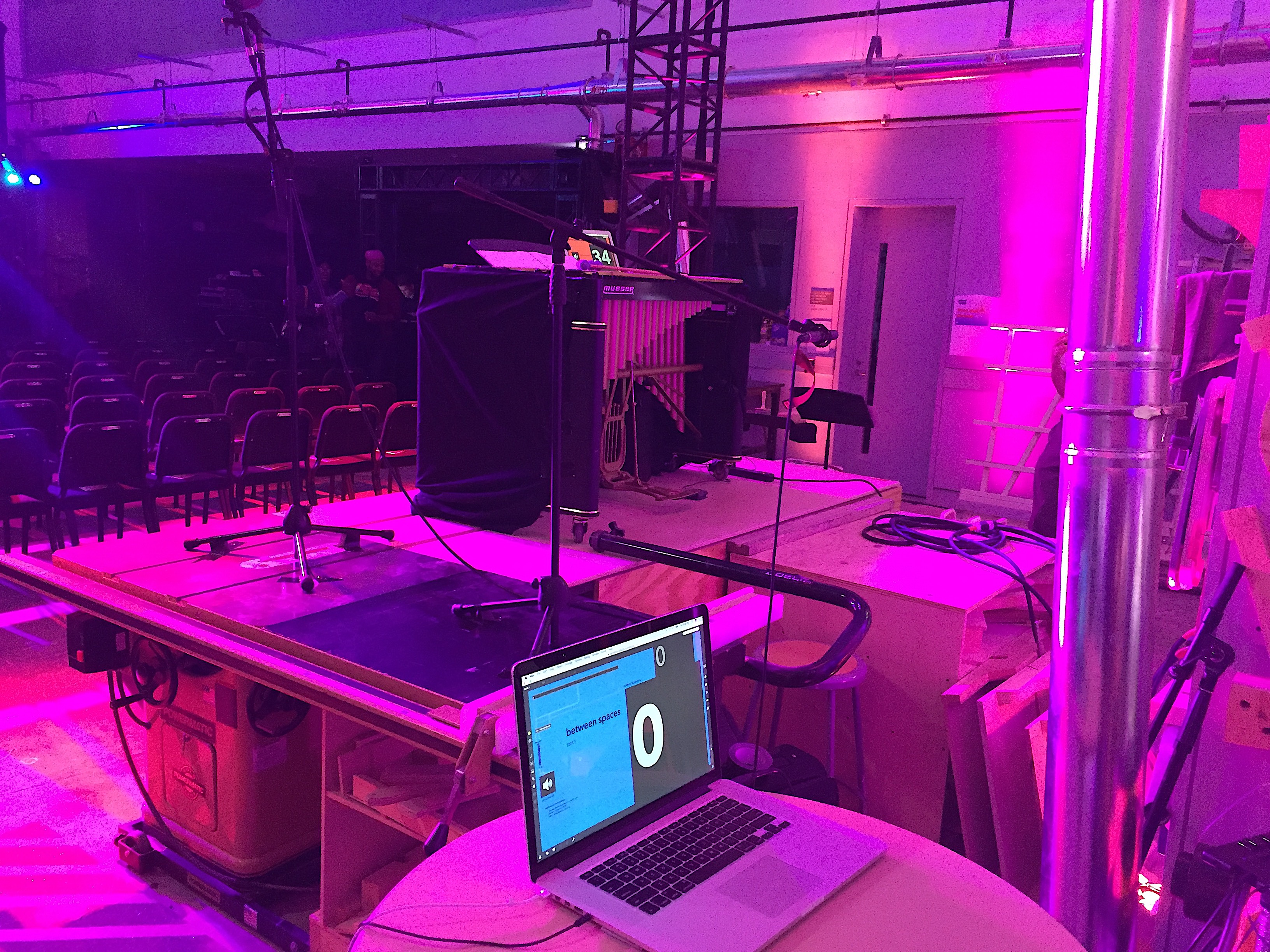 Serious hacking going on as Approaches to Live Electronics students prepare for John Cage – Cartridge Music!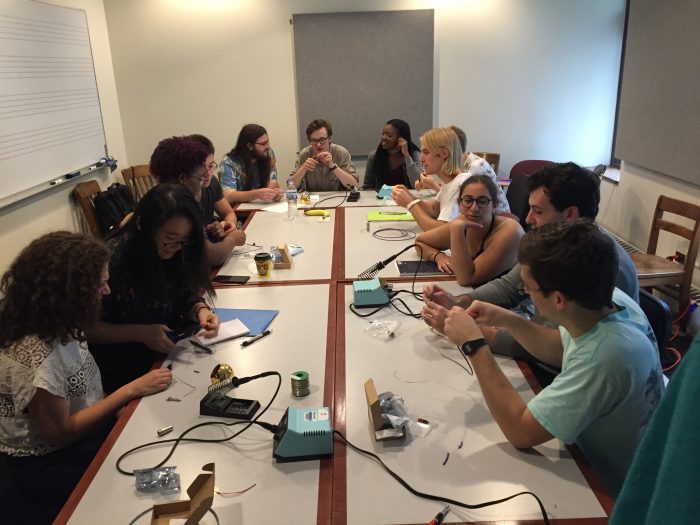 Tim Page Wins SEAMUS/ASCAP Prize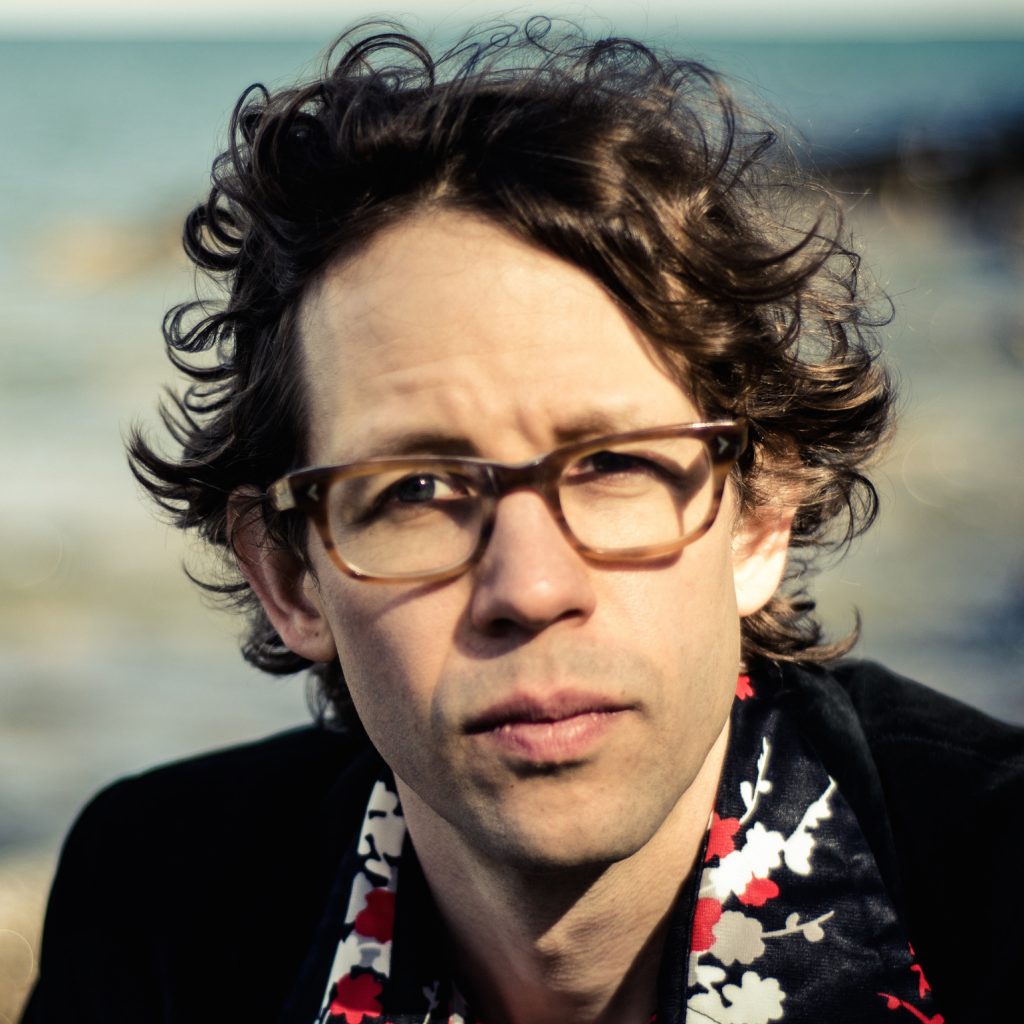 Tim Page, UChicago grad composer and CHIME regular, has just been declared a winner of the 2017 SEAMUS/ASCAP Award. The prize includes a commission for an electroacoustic work that will be premiered at the Society for Electroacoustic Music Conference in the Spring of 2018.
Mark your calendars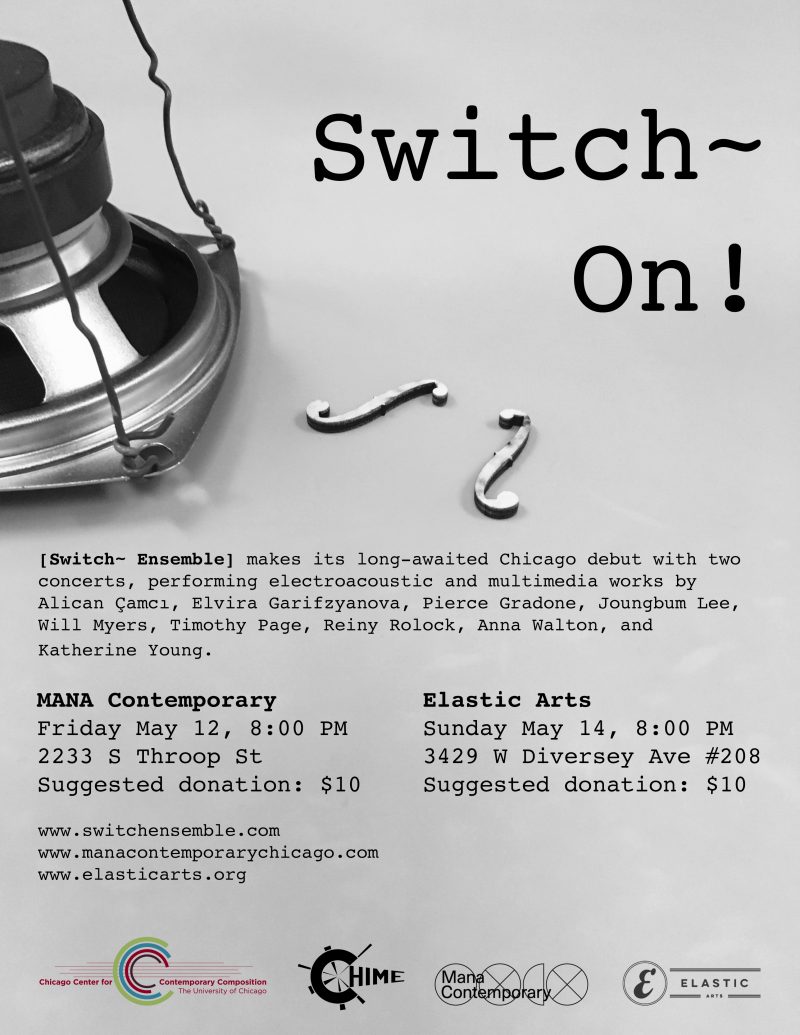 Poster!
More info here
SuperCollider jam-out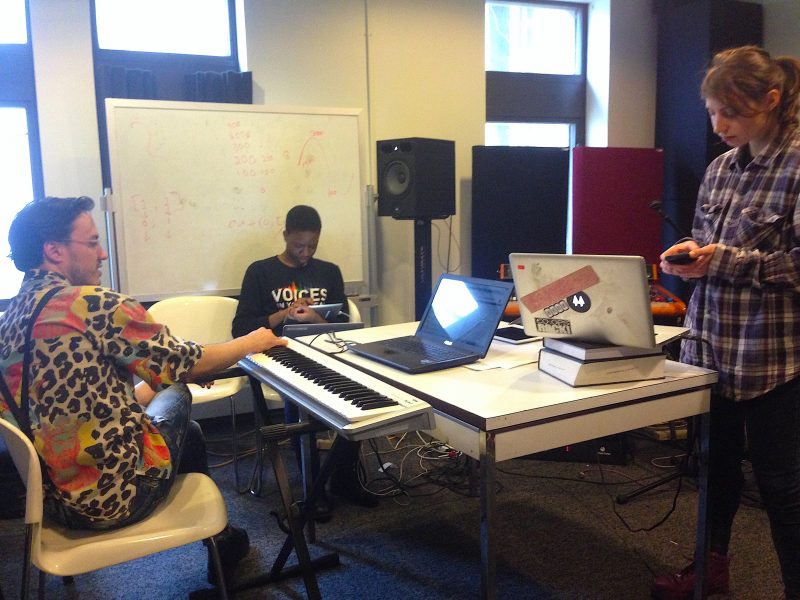 Improv session through SuperCollider and external controllers.
Featured above are Electronic Music II students: Takashi Shallow, Ire Olagbami and Fran Levitin.
Busy CHIMEs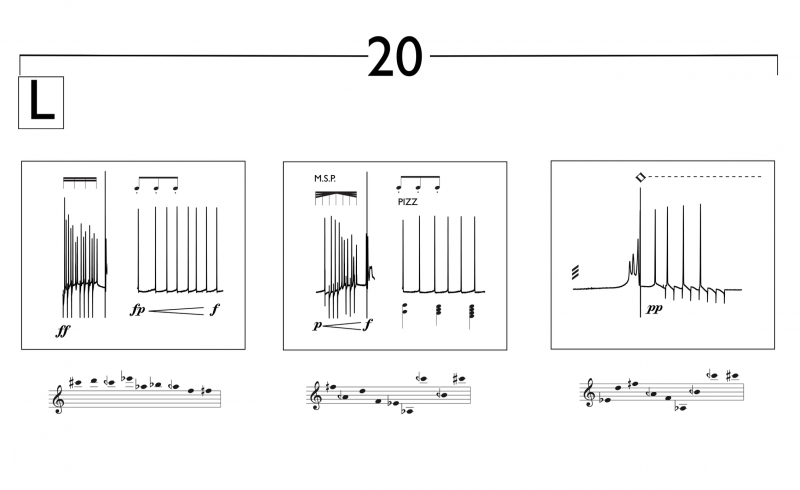 Busy times for CHIME. Director Sam Pluta on tour with the Peter Evans sextet, Alican Çamcı and Igor Santos just finished performing Saariaho's "Aer",  and the Switch On! project is coming up.
Pictured above is a snapshot from Pierce Gradone's graphical cues, for his new piece Net(work), for violin, cello and piano/keyboard. The work is a collaboration between Pierce and UofC neurobiologist Dana Simmons, and will be premiered by the [Switch~ Ensemble] on May 14th, at Elastic Arts.
Five from Afar

CHIME is running electronics for Kaija Saariaho's "Aer", as part of UChicago Presents' "Five from Afar" concert.
When: Sunday, April 9, 2017 – 3:00pm
Where: Performance Hall, Reva and David Logan Center for the Arts
CCCC

The Chicago Center for Contemporary Composition, one of the sponsors for Switch On!, has officially been launched!