Sam Baste
llamada – not yet (2019)
//im trying to think//
composed entirely
from
a singular news report
//why is this so hard//
about venezuela
think of it what you will
on Bad Optics label
Paul Beckman
No-input mixer and SuperCollider controlled drum feedback setup in Studio B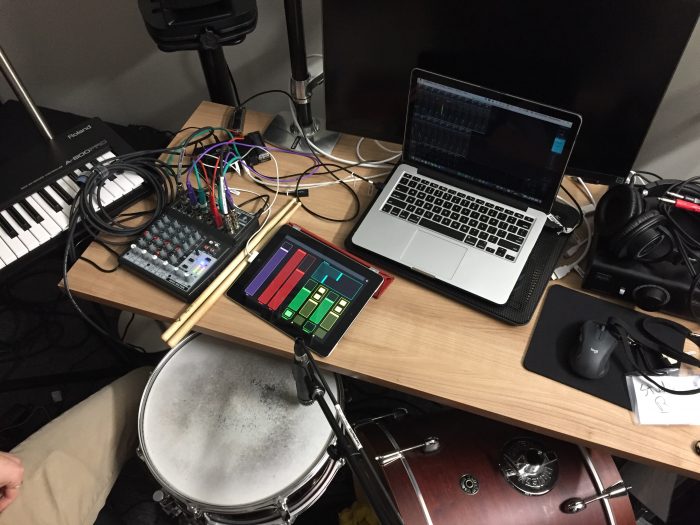 Into the empty sky (2017)
for sextet and live electronics
performed by the University of Chicago New Music Ensemble with Barbara Schubert, conductor
February 4th, 2018
circle (2018)
for string quartet, DMX lights, 6 speakers, and 3 large PVC tubes.
Performed by Spektral Quartet, April 5, 2018
Two Live Sets (2019)
De Singer, part 1 was recorded live in Belgium and produced in the CHIME Studio. It is the first track on Two Live Sets, an album featuring CHIME Director Sam Pluta on electronics and Peter Evans on trumpet. Evans and Pluta use improvisation to bridge uncharted sonic worlds for Evans' traditional acoustic instrument with Pluta's customized and highly flexible software. Their instruments are at some points fused into a unified sonic entity indistinguishable as two voices, while at others engaged in violent counterpoint.
suggested affinities (2018)
a concerto for piano, ensemble, and electronics that dramatizes the contrast between a mechanical super-piano, and one that has a physical—organic—body. Keyboards and pedals run physical modeling software through Max, in addition to triggering various distorted vocal samples. These electronics are "attached" locally to the solo piano, the harp, and the vibraphone, creating meta-instruments that interact with the ensemble.