The CHIME Studio (Chicago Integrated Media Experimental Studio) is a vibrant hub for the fusion of computer music, composition, and multimedia practices at the University of Chicago. The CHIME Studio is currently under the direction of Professor David Bird (dbird@uchicago.edu).
CHIME is comprised of three studios: Studio A (Production and Spatial Audio Lab), Studio B (Production and Synthesis Lab), and Studio C (Equipment Checkout Room). Studio A supports projects in production, recording, and spatial audio. This studio hosts a twelve-channel Genelec speaker array, and features a Mac Studio computer running Reaper, Logic Pro, Ableton Live, SuperCollider, and Max/MSP. It also has high-quality production plug-ins, such as ValhallaDSP reverbs, FabFilter mastering software, and more. Studio B is a lab for music production and modular synthesis. It features a four-channel JBL speaker system and an extensive Eurorack modular synthesis system. Both studios are acoustically treated, capable of supporting projects in recording, and run on the latest RME audio interfaces. When working in CHIME, students have access to a number of high-quality microphones by brands such as Sennheiser, Neumann, Shure, DPA, and AKG.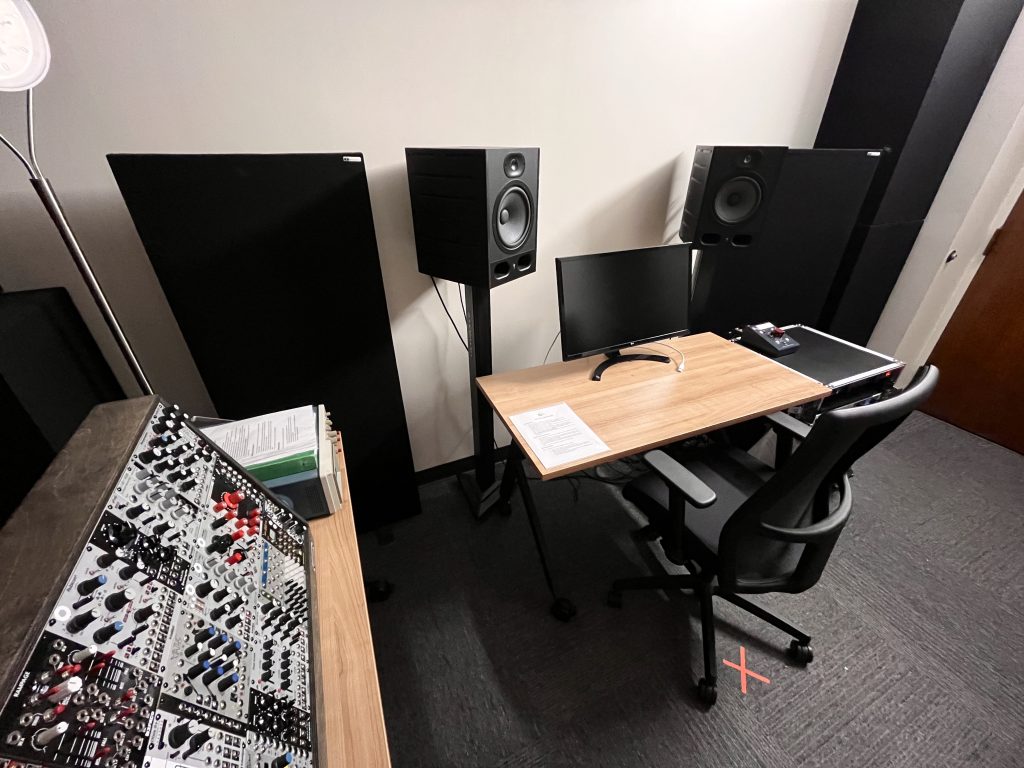 In addition to our studio spaces, CHIME regularly produces concerts, such as its yearly electroacoustic music festival, CHIMEFest, and engages in collaborative projects with artists from across disciplines, both on campus and across the city of Chicago. The studio frequently supports off-site performances and recordings with our equipment checkout room located in Studio C, which hosts a variety of audio/visual equipment for live performances, as well as a soldering station for repairs and work with DIY electronics. In addition to this, students have access to equipment and facilities at the Logan Media Center, located on the bottom floor of the Logan Center for the Arts.