Leo Baeck Institute's Archive of Jewish Life Now Online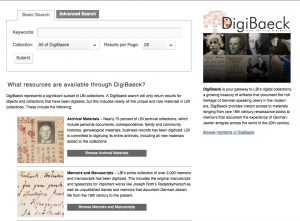 Yesterday the New York Times announced, "The Leo Baeck Institute, a New York research library and archive devoted to documenting the history of German-speaking Jewry, has completed the digitization of its entire archive, which will provide free online access to primary-source materials encompassing five centuries of Jewish life in Central Europe."
The online collection for the Leo Baeck Institute is called DigiBaeck, and is:
a growing treasury of artifacts that document the rich heritage of German-speaking Jewry in the modern era. DigiBaeck provides instant access to materials ranging from rare 16th century renaissance books to memoirs that document the experience of German-Jewish émigrés across the world in the 20th century.
In addition to manuscript material and archival photographs, more than 2,600 art objects have been digitized and are accessible on the website. While there is a lot of material digitally available now, on October 16, the expanded archive will be released online, representing the archive online in its entirety.
Via the New York Times
Categories: Images on the Web, VRC