by Mihra Rittmann
Human Rights Watch (HRW) is an independent, nonprofit, nongovernmental human rights organization that investigates human rights abuse in over 90 countries worldwide. Human Rights Watch carries out in-depth research to get the facts. We expose information of abuse in our various written and social media products and make policy recommendations about how governments can – and should – change behavior. Ultimately, our purpose is to bring about positive change.
Human Rights Watch researchers face a range of difficulties covering human rights abuses in the countries where we work. In Central Asia, a region Human Rights Watch has covered for over 20 years, and where I've worked for about nine, there are three key challenges that stand out.
The first is working in a hostile environment. In my experience that has meant, first of all, gaining access to countries I cover. In 2007, I was denied a work permit and effectively kicked out of Uzbekistan when I could not get another visa. In mid-2014 and again in mid-2015, in neighboring Kyrgyzstan, I was denied a work permit, only to find out in December of 2015 that I had been banned completely. The hostile environment of Central Asia means dealing with information security and surveillance concerns as well.
A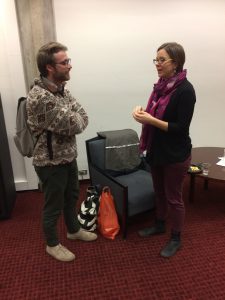 second is the entrenched authoritarianism that describes most of the Central Asian region.
The third is overcoming Central Asia's relative low profile in the world, which can make it difficult to get and sustain media and advocate targets' attention to pressing rights issues.
The following three examples of the work we do illustrate Human Rights Watch's methodology and some of the challenges we face, as well as how we work through them.
**
HRW's recent labor rights research, focusing on freedom of association for trade unions in Kazakhstan, is a good example of the type of long-term work we do, as well as an example of research that straddles both civil and political, as well as economic, social, and cultural rights.
Human Rights Watch chose to focus on freedom of association for trade unions because the Kazakh government had recently adopted a new trade union law, there was high-level attention to the issue of labor relations in the aftermath of oil worker strikes in 2011, which ended in a violent crackdown by government forces in December 2011, and because relatively little research on this issue had already published. We were also building on previous research.
In 2011, I wrote a report called Striking Oil, Striking Workers that looked at three specific labor rights conflicts in western Kazakhstan and the abuses that took place in the context of the disputes. The aim of our more recent report, published in 2015 and entitled We Are Not The Enemy, was to look more broadly at freedom of association for workers across Kazakhstan.
We conducted research in cities across Kazakhstan where we had identified active trade union leaders representing workers in various industries, including in two of Kazakhstan's largest – oil and gas, and the mining industry. We also interviewed lawyers and human rights defenders.
We first carried out a scoping mission to get a better understanding of the issues and rights violations, and to do initial outreach, after which we carried out several more research trips. As part of our methodology, we always seek the government's perspective, so after collecting a body of research, we wrote a lengthy letter to the Ministry of Healthcare and Social Development, which had oversight over labor issues in Kazakhstan at the time.
The principle of do no harm is of utmost importance for HRW researchers. In some instances, we will decline to do interviews if the risk outweighs the benefit of speaking to a particular individual. On at least two separate occasions while I was doing research for this report, I was under surveillance by local authorities, which made it very difficult to guarantee the anonymity of our interviewees. In addition, three trade union leaders told me that they had been contacted by Kazakh security services after I had reached out to them and had been warned against speaking to me. Fortunately these trade union leaders – already known entities to the authorities – were ready to assume the risks of speaking to HRW.
We also had a difficult time engaging with the government on this issue. Aside from one meeting in Geneva during the International Labor Organization's annual conference in June 2016, the Kazakh government declined to respond substantively to our letter and did not grant us any meetings in Astana when the report was launched. Especially when we are unable to meet with the government directly, our advocacy with other relevant actors, such as with the EU and EU member states, the US, or the International Labor Organization, become all the more crucial.
Despite a clear ILO directive to the Kazakhstan government to amend the restrictive trade union law, Kazakhstan has taken no meaningful steps to do so. In addition, the government has shut down the only independent national tier trade union, threatened its leader with arrest, and arrested two other trade union leaders – all in the last three months.
As such, the publication of our report was very timely, documenting the broader labor rights violations in Kazakhstan – but meaningful change remains elusive in Kazakhstan.
**
Our work on LGBT rights in Kazakhstan is a good example of how our work can bring about human rights impact, even in a country with an intractable human rights record.
In early 2015, Human Rights Watch learned that Kazakhstan's parliament was considering a bill aimed at protecting children from "harmful information," that, if adopted, would ban positive information about "non-traditional sexual orientation." By February that year, the bill had been approved and was sent to the president for signature.
At the time, Kazakhstan had become one of two finalists for the 2022 Winter Olympics, along with Beijing, China.
This is important because in December 2014, the International Olympics Committee (IOC) introduced into Olympic host city contracts an antidiscrimination requirement, including on grounds of sexual orientation.
In other words, at the same time Almaty was bidding to host the Olympics, Kazakh leadership was trying to pass discriminating legislation that would directly contravene the Olympics host city contract.
Human Rights Watch was especially well-placed to use Almaty's Olympics bid to highlight issues around non-discrimination in Kazakhstan. We had previously engaged with the IOC, we knew the rights context in Kazakhstan, and we had examined similar anti-LGBT propaganda bills in Russia and in Kyrgyzstan.
Kyle Knight, researcher in Human Rights Watch's LGBT program, took the lead carrying out research. I joined him in Kazakhstan where with the help of local contacts and LGBT activists (many of whom do not work openly in Kazakhstan – there is no registered LGBT rights organization, for example), we interviewed LGBT people. Several months later, we published a report on rights violations against LGBT people entitled "That's When I Realized I was Nobody."
In the lead up to the Olympics host city decision, we wrote a letter to the Presidential Administration in Kazakhstan inquiring about the content of the draft legislation and expressing serious concern about discriminatory provisions. We also wrote several letters to the IOC asking the committee to take action to ensure that the Kazakh government does not introduce any discriminatory laws.
The bill did not become law. In May 2015, Kazakhstan's constitutional chamber decided to reject the 'harmful information' bill, finding it unconstitutional because of its "vague wording."
**
The third example comes from our work on human rights defenders, an institutional priority for Human Rights Watch. Our materials and advocacy on individual cases puts activists on a country's human rights agenda, and can help bring about their release. Take, for example, the case of Farkhod Mukhtarov, a rights activist from Uzbekistan, who was released on parole on the eve of then-US secretary of state Hillary Clinton's visit to Uzbekistan in December 2010. Clinton had stated publicly that she would raise imprisoned human rights defenders during her visit.
However, in other instances, despite sustained engagement, activists continue to languish in prison.
Azimjon Askarov is an elderly rights defender from Kyrgyzstan. For years Askarov worked to document and expose police abuse in his hometown. In 2010, following the outbreak of interethnic violence in southern Kyrgyzstan, Askarov was detained, held incommunicado, tortured, and accused of participating in the murder of a police officer.
HRW and many other rights groups have documented serious violations of Askarov's rights, including his right to a fair trial, attacks on his lawyer in the courtroom, allegations of ill-treatment and torture. We have repeatedly urged Kyrgyz authorities to release Askarov, and called on Kyrgyzstan's partners, including the EU and the US, to raise his case with the Kyrgyz authorities.
In 2012, Askarov and his lawyers filed a complaint with the UN human rights committee citing the many violations during his arrest and trial, seeking justice. After a multi-year review, the Committee found in March 2016 that Askarov was ill-treated and tortured, denied a fair trial, and should be released immediately. It's a year later, but Askarov is still in jail.
**
As frustrating as it can be sometimes to work on human rights in Central Asia, it is also highly inspiring and rewarding. I became involved in human rights work because I wanted to bear witness to trauma survivors, but what sustains me is the community of human rights defenders of which I've become a part. Human rights defenders – especially those in their home communities who do this work despite the grave risk of harassment, arrest, or worse – are some of the most courageous people I've ever met. And when those who have been imprisoned for the work they do finally walk free, it makes all the frustrations worthwhile.
Bio
Mihra Rittmann is Central Asia Researcher at Human Rights Watch, covering Kyrgyzstan and Kazakhstan. As a child, her family lived in Almaty, Kazakhstan, where Rittmann first learned Russian. She graduated from the University of Chicago with a BA with honors in Russian language and literature, and then moved to Moscow on a Fulbright fellowship. She began working at Human Rights Watch in 2006. She has a master's degree from the University of Essex.