[To request papers that not available online, please write to historicalpoetics@gmail.com]
Forthcoming
Luba Golburt, "Alexander Pushkin as a Romantic," in the Oxford Handbook of European Romanticism, ed. Paul Hamilton. Oxford University Press, 2015.
Boris Maslov, "The genealogy of the Muses: an internal reconstruction of Archaic Greek metapoetics." Forthcoming in American Journal of Philology 137.3 (2016)
2015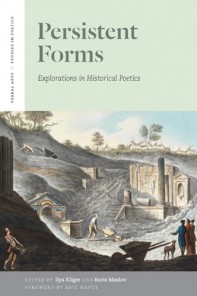 Ilya Kliger and Boris Maslov, eds. Persistent Forms: Explorations in Historical Poetics. Forthcoming with Fordham UP (series "Studies in Poetics"), June 2015. Table of Contents  http://fordhampress.com/index.php/persistent-forms-cloth.html
NB: For illustrations to Michael Kunichika's chapter see the bottom of the page.
Ilya Kliger, "Non-synchronous Modernity and Tragic Nationalism in Dostoevsky and Nietzsche,"  in Dostoevsky and Nietzsche, eds. Jeff Love and Jeffrey Metzger, Northwestern University Press.
Michael Kunichika, "Our Native Antiquity": Archaeology and Aesthetics in the Culture of Russian Modernism. Academic Studies Press, 2015. http://www.academicstudiespress.com/slavic-studies-books/our-native-antiquity-archaeology-and-aesthetics-in-the-culture-of-russian-modernism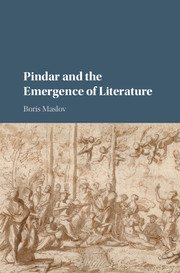 Boris Maslov, Pindar and the Emergence of Literature, Cambridge UP, 2015.http://www.cambridge.org/us/academic/subjects/classical-studies/classical-literature/pindar-and-emergence-literature
Scott Mehl, "The Beginnings of Japanese Free Verse and the Dynamics of Cultural Change." Japan Review (2015).
Tatiana Nikitina and Boris Maslov, "Verse structure and literary tradition: Correlating rhyme and stress in the Onegin stanza." Style 49.4 (2015): 439-469.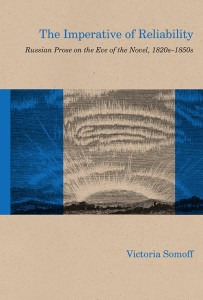 Victoria Somoff, The Imperative of Reliability: Russian Prose on the Eve of the Novel, 1820s-1850s. Northwestern UP, 2015. http://www.nupress.northwestern.edu/titles/imperative-reliability
2014
Luba Golburt, The First Epoch: The Eighteenth Century and the Russian Cultural Imagination. University of Wisconsin Press, 2014. http://uwpress.wisc.edu/books/5136.htm
Luba Golburt, "The Queen is Dead, Long Live the King: Paul's Accession and the Plasticity of Late Eighteenth-Century Panegyric," Russian Literature 75.1-4 (2014): 163-187.
Boris Maslov, "Why Republics Always Fail: Pondering Feofan Prokopovich's poetics of absolutism." ВИВЛIОθИКА: E-Journal of Eighteenth-Century Russian Studies 2 (2014) 24-46.
2013
Luba Golburt, "The Portrait Mode: Zhukovskii, Pushkin and the Gallery of 1812." In Rites of Place: Public Commemoration and Celebration in Russia, eds. Julie Buckler and Emily Johnson, 105-132. Evanston, IL: Northwestern University Press, 2013.
Kate Holland, The Novel in the Age of Disintegration: Dostoevsky and the Problem of Genre in the 1870s. Northwestern University Press, 2013.
Boris Maslov, "Comparative Literature and Revolution, or the Many Arts of (Mis)Reading Alexander Veselovsky." Compar(a)ison: An International Journal of Comparative Literature 2008 [2013] 2: 101-129.
Boris Maslov, "The Dialect Basis of Choral Lyric and the History of Poetic Languages in Archaic Greece." Symbolae Osloenses 87 (2013): 1-29.
2012
Armen Avanessian, Anke Hennig, Präsens: Poetik eines Tempus (Zurich: Diaphanes, 2012). Russian translation forthcoming in 2013. English translation in preparation.
Ilya Kliger, "Resurgent Forms in Ivan Goncharov and Alexander Veselovsky: Toward a Historical Poetics of Tragic Realism." Russian Review 71.4 (2012): 655-672.
Michael Kunichika, " 'The Scythians Were Here…'  On Nomadic Archaeology, Modernist Form, and Early Soviet Modernity." Ab Imperio. 2012. № 2. P. 229-257.
Michael Kunichika, "'The Ecstasy of Breadth': The Odic and the Whitmanesque in Dziga Vertov's One Sixth of the World (1926)." Studies in Russian & Soviet Cinema 6.1 (2012) 53-74.
Boris Maslov, "Pindaric temporality, Goethe's Augenblick, and the invariant plot of Tiutchev's lyric." Comparative Literature 64.4 (2012) 356-381.
Boris Maslov, "The real life of the genre of prooimion." Classical Philology 107.3 (2012) 191-205.
Boris Maslov, "From (theogonic) mythos to (poetic) logos: reading Pindar's genealogical metaphors after Freidenberg." Journal of Ancient Near Eastern Religions 12.1 (2012) 49-77.
2011
Ilya Kliger, The Narrative Shape of Truth: Veridiction in Modern European Literature. University of Pennsylvania Press, 2011.
Ilya Kliger, "Genre and Actuality in Belinskii, Herzen, and Goncharov: Toward a Genealogy of the Tragic Pattern in Russian Realism." Slavic Review 70.1 (2011) 45-66.
Ilya Kliger, "Dostoevsky and the Novel-Tragedy: Genre and Modernity in Ivanov, Pumpyansky, and Bakhtin." PMLA 126.1 (2011) 73–87.
Jonathan Ullyot, "Molloy or Le conte du Graal." Modern Philology 108.4 (2011) 560-79.
2010
Ilya Kliger, "World Literature Beyond Hegemony in Yuri Lotman's Cultural Semiotics," Comparative Critical Studies 7.2-3 (2010) 257-274.
Leslie Kurke, Aesopic Conversations: Popular Tradition, Cultural Dialog, and the Invention of Greek Prose, Princeton UP , 2010.
Victoria Somoff, "No Need for Dogs or Women: Muteness in Turgenev's 'Mumu'." Russian Literature 68:3-4 (2010), 501-520.
before 2010
Christopher Faraone, The Stanzaic Architecture of Early Greek Elegy, Oxford UP, 2008.
Kate Holland, "Novelizing Religious Experience: The Generic Landscape of The Brothers Karamazov," Slavic Review 66.1 (2007): 63-81
Kate Holland, "Literary Contexts of Triangular Desire: Natalie and Alexander Herzen as Readers of George Sand," Russian Literature 61. 1-2 (2007): 175-205
Leslie Kurke, "Plato, Aesop, and the Beginnings of Mimetic Prose," Representations 94 (2006) 6-52.
Richard P. Martin, "Words Alone are Certain Good(s): Philology and Greek Material Culture," Transactions of the American Philological Association 138.2 (2008) 313-349.
Boris Maslov, "The semantics of aoidos and related compounds: Towards a historical poetics of solo performance in Archaic Greece." Classical Antiquity 28.1 (2009) 1-38.
Igor Smirnov. "O teorii zhanrov." Die Welt der Slaven 50.2 (2005): 322-361.
Victoria Somoff, "On the Metahistorical Roots of the Fairytale." Western Folklore 61 (2002), 277-294.
Victoria Somoff (Nesterenko), "Proizvedenie morali: analiz basni" (Production of Morality: Analysis of the Fable, Voprosy literatury, 2 (1998), 97-120.
Victoria Somoff (Nesterenko), "Chudo kak sobytie v slove" (Miracle as a Narrative Event), Voprosy literatury, 1 (1997), 103-116.