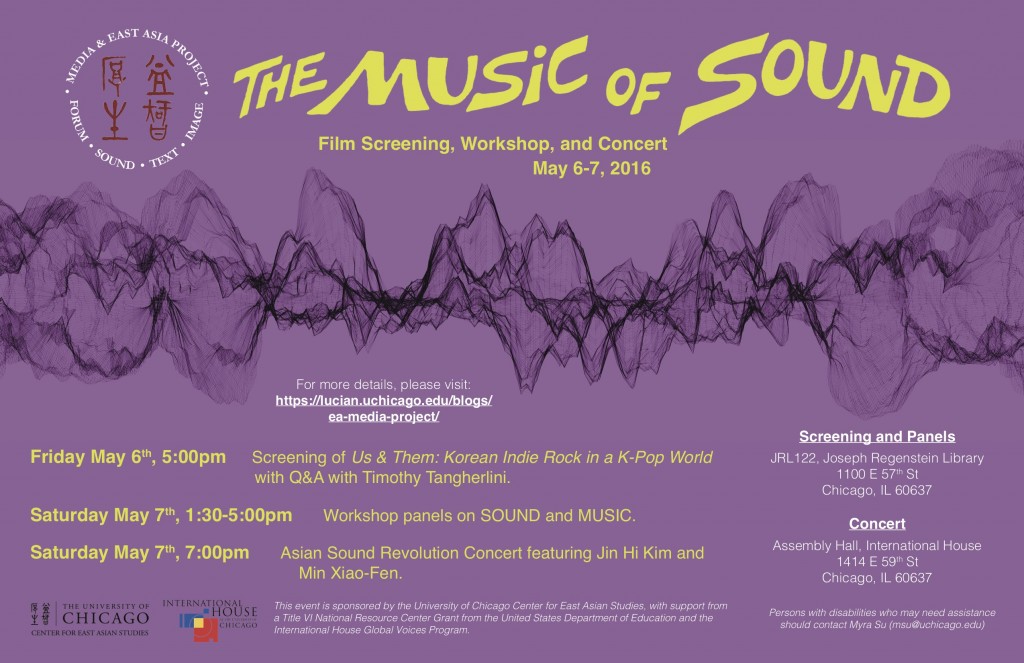 The Center for East Asian Studies is excited to announce Part II of our Media and East Asia Project, entitled "The Music of Sound." It will take place at the University of Chicago from May 6 to 7, 2016. The Workshop will consist of two panels, one on SOUND and the other on MUSIC. The division is meant to recognize the different methodological approaches brought to bear on these categories, but also to facilitate discussion about the different ways these media circulate within and across cultural borders. We are especially interested in their circulation in regions and spaces peripheral or marginal to nation-states.
In order to promote dialogue and exchange among participants, papers will be pre-circulated in advance of the Workshop. Speakers will be asked to play a sound clip at the beginning of their presentation and then walk the audience through that clip as a frame for discussing the content of their paper. Each panel will then have ample time devoted to comments and discussion. Panelist's sound clips will then be replayed at the end of the discussion to offer participants another opportunity to listen and consider the subject matter of the panels.
"The Music of Sound" Workshop will also include a documentary film screening of Us & Them: Korean Indie Rock in a K-Pop World (2014) followed by a Q&A with one of the producers, Timothy Tangherlini. The Workshop will end with innovative performances by and discussions with world-renowned musicians Jin Hi Kim and Min Xiao-Fen, who each experiment with new approaches towards traditional East Asian instruments and musical genres.
The Media and East Asia Project explores the emerging field of East Asian Media Studies through a series of collaborative workshops with the goal of exploring the interplay of area studies and media studies, and the dynamics of how media presents different histories of cultural production across the region. This event is sponsored by the University of Chicago Center for East Asian Studies with support from a Title VI National Resource Center Grant from the United States Department of Education.