Each year, MAPH Partners with several Chicago cultural, literary, and non-profit organizations to provide paid summer internships designed specifically for MAPH students. One of these opportunities, the Torch Fellowship, gives students the opportunity to reach out to an organization of their choice to propose a summer internship project. This fellowship, named in honor of Rafael Torch, writer, teacher and MAPH alum from 2005, was offered for the first time in Summer 2012. The service fellowship in his name offers one graduate student funding for an otherwise unpaid internship in any non-sectarian, non-profit social justice, community-building, or other service- or outreach-focused organization in Chicago during the summer after graduation. The fellowship is intended to promote connections between humanistic inquiry and service work outside the academy in the city of Chicago. 
Rachel Kamins (MAPH'15) was awarded the Torch Fellowship last summer and agreed to write a blogpost for us about her experience working with Universidad Popular. 
~Your Mentors
---
One of my goals going into MAPH, after having been in a career for a few years already, was to use the program to help me shift to a different line of work. I had been editing academic manuscripts for scholars and publishers. I wanted to move into a position where I could edit a bigger variety of work, where I could be involved in projects that called more on my own creativity and interests, and where I could feel like my work was making a positive impact on a broader piece of the world. I figured that working for a nonprofit would help me tick those boxes, especially at a small organization where I could more easily play a range of roles and take on various responsibilities
One of my particular interests was working with learners of English as a second language. A lot of my editing clients have been nonnative speakers, and I focused on ESL acquisition via studying linguistics in MAPH in order to better understand these learners' experiences and challenges. I saw the Torch Fellowship as a great opportunity to put all these pieces together by working on writing and editing projects at a nonprofit that serves ESL learners.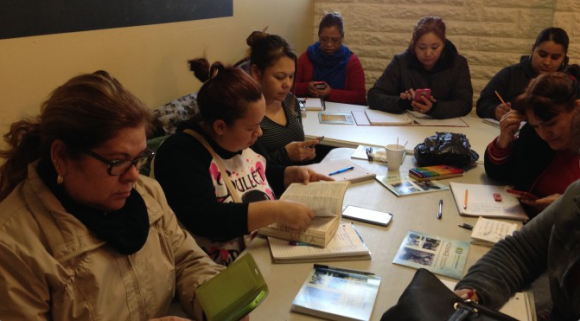 I Googled ESL nonprofits in Chicago, reached out to a few of them, had informational interviews at a couple, and ended up being very excited to work with Universidad Popular. Headquartered in the Little Village neighborhood on the west side, UP is one of the organizations helping the large community of immigrants to Chicago from Central and South America feel at home in their new country, through social services, cultural events, and community centers. I was bowled over by the immediately obvious warmth, friendliness, energy, and courage of the staff and volunteers at UP as well as of their participants.
UP's mission is not just to serve but to empower community members to help themselves and each other, and the good faith and ceaseless effort that all parties put into this mission is inspiring. In another unexpected tie-in to my MAPH year, UP serves this mission by pursuing participatory learning, a method I had learned about in the Teaching in the Community College course.
Through meetings and emails with staff members at UP I designed an internship that centered around a project to gather, analyze, and report qualitative data on the outcomes of UP's adult English literacy program; I also signed on to conduct writing workshops for the staff (largely nonnative speakers of English themselves), and to help out with any writing and editing projects that came up during the summer. I brought this proposal to the MAPH staff and they liked it—in particular, I think, the way that it connected to my previous work, my studies in MAPH, and my future career plans all at once.

Working at UP would have been worth it for the food alone—participants often brought in homemade tamales, enchiladas, chilaquiles, and more, and when I couldn't scrounge food in the office I could walk out into the eaters' paradise that is Little Village. Most mind-blowing was the Fería del Mole, the homemade mole cookoff that takes place at UP every fall. But I also did work! The qualitative data project gave me many opportunities to learn from the staff about how their English literacy programs are funded, what outcomes the funders care about, why participants sign up for them, what the important outcomes are for them, and how these different interests are managed and integrated.
In developing new measures for the program I focused on how to highlight UP's mission of empowerment—how to illustrate that when participants take an English class there, they are learning not just vocabulary and grammar but how to be in control of their lives and improve their community in this English-majority city. This involved exercising the writing and research skills and the knowledge of second-language acquisition that I had already as well as gaining a deeper understanding of the participatory learning method, the history of the community, and current political and economic issues. Through the other aspects of the internship I also had opportunities to do some editing, curriculum design and teaching, social media work, grant research and writing, event management, and other activities useful for building my resume in nonprofit communications.
After the internship officially ended, I was welcomed by the UP staff to continue volunteering while I applied for full-time jobs. (They were especially open to volunteers at this point on account of the defunding of many of their programs by Govern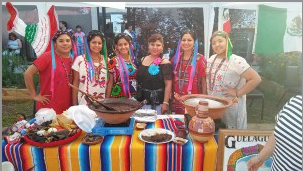 or Rauner's budget cuts and the continuing, devastating state budget impasse.) I helped some more with grant writing and data analysis and reporting, and I also got to take on the role of facilitating discussion groups with participants in the English literacy program. After a few months, I found a job in communications at another nonprofit in Chicago—the Higher Learning Commission, located in the Loop—no doubt thanks to the experience, exposure, and connections I gained at UP. In a just world, one where the state of Illinois provided adequate funding to the social service agencies that keep its communities and large chunks of its workforce afloat, I would love to be working at UP still.
Especially in light of the current need for volunteers, I encourage any MAPHers with a car or a Ventra card to visit UP's locations in Little Village and Chicago Lawn (which is nearly due west from campus) and learn how engaging with this organization and these communities can add to the quality of your life and your studies, not to mention your current city of residence. To make an even broader appeal, any MAPHer with career interests that don't quite fit the other internship offerings and/or aspirations of getting paid to do mission-driven work should absolutely apply for the Torch Fellowship. Nonprofit organizations with tight budgets will be delighted to see you coming with your skills and your own funding, and you will leave—or with luck, stay—with a wealth of new knowledge and friends.