"That's my claim to fame," he said. "I took Frida Kahlo to the movies."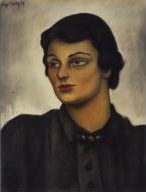 It was 1937. Leon Despres, Chicago alderman and activist, was visiting Mexico, sitting on a couch chatting in French with Diego Rivera while the artist painted a portrait of Despres's wife, Marian. "I sat there in the morning while he painted her. Then we had lunch. He needed two hours more to finish the portrait, and I didn't want to sit there any longer." Diego Rivera's wife, Frida Kahlo, happened to be hanging around the residence that day with nothing much to do, so Despres took her to the theater to see the film 
La Kermesse Héroïque,
 a French romantic comedy.
Several months earlier, Despres mentioned to some friends that he and his wife were planning a vacation to Mexico. One of his friends, who was a lawyer for ousted Soviet politician Leon Trotsky, was especially glad to hear that Despres was heading south because Trotsky was exiled at the time in Mexico. The lawyer-friend asked Despres to deliver a "suitcase of winter clothes to Mr. and Mrs. Trotsky." Despres admired Trotsky's writings and couldn't refuse the opportunity to meet him, so he agreed. When he arrived in Mexico, Despres contacted Trotsky by telephone and arranged to deliver the suitcase to his home. "I spent an hour with him," Despres recounted. "It was a remarkable hour. We spoke French. When we left, his secretary asked me, 'How would you like to have a portrait of your wife done by Diego Rivera?'" Despres couldn't refuse and was subsequently invited to spend five days with the Trotskys at a villa offered to them by a Harvard professor-friend of Trotsky.
The Rivera painting, Portrait of Marian Despres, is in the collection of the Smart Museum of Art, and the above text is a portion of a draft blog post I've written as the Communications Intern for the Smart. My main role here has been The Blogmaster (I gave myself this title), and the blog's purpose is to mark the series of year-long celebrations for the Smart's 40th anniversary. The museum's external relations office had some general ideas for the blog's direction, but I have been responsible for producing concrete ideas and implementing them.
I spent the first week or so of the internship reading and researching the Smart's history and pulling out threads of narrative that could be woven together to form a relevant and coherent series of celebratory blog posts, telling the story of the Smart's history through interviews with Smart alumni, profiles of groundbreaking exhibitions, tales of objects from the collection, and as many puns on the word 'smart' that I could think of.
This was a fascinating process which revealed amazing stories and characters such as David and Alfred, the Smart brothers for whom the museum is named, who founded Esquire magazine and Coronet films (
https://www.youtube.com/watch?v=l7I_uwShVXM
).
Since that first week, I've been working on the implementation phase: researching and writing each post individually. One highlight of this process has been tracking down and scanning photographs from the Smart's 1974 ground-breaking ceremony, which was full of incredible 70s fashion: wide lapels, crazy sideburns, flowery ties, big shoes, etc.–it could have been a scene from Saturday Night Fever.
There has also been the odd task for me to complete; I've made time-lapse videos of gallery de-installations, helped write labels for an upcoming exhibition, and wrote the e-newsletters and social media posts. But, the majority of the time has been blog-focused. My art history background has been most obviously helpful, especially in researching the exhibitions and objects from the collection. Naturally, since MAPH helped me become a writing-and-research wizard, I was able to apply those skills directly as well. Additionally, though, my time during MAPH pressed me to become extremely comfortable sifting through large texts and extracting a line of argument. I've found this habit to be analogous to the process of sifting through the Smart's 40 year history and recognizing those moments and stories that helped shape museum's contemporary personality.