The site is being updated.. please come again soon.
Humanities Computing is able to provide free, WordPress based blogs and websites to all Humanities Division faculty and staff in support of research, academic events, graduate workshops and other collaborative projects. On this site you will find examples of model websites built with WordPress in use throughout the division as departmental sites, for conferences and colloquia, graduate workshops, exhibitions or for event-driven online newsletters and blogs.
The individual model sites on the site are cross-listed by type and by the amount of effort and know-how that were required to build them. Almost all of the sites presented here were built by staff, faculty or students in the division with no experience at all in web design or development. The design notes accompanying each example are intended as helpful hints to others wishing to build something similar.
Please take a look around. On occasion we'll also post announcements & updates about WordPress beneath this post with reports on new features, plugins and themes. Please contact Humanities Computing if you think you would be interested in building your own WordPress site or would like us to build one for you. Further information can also be found on the Blogs FAQ.
Finally, for more collaborative and documentation oriented projects you may also want to consider using the humanities wiki.
WordPress was recently updated to version 3. We'll continue running v2.9.x for a while longer in the Division until we're sure the typical glitches associated with a new release are ironed out and all of our supported themes and plugins are compatible with the new version. For the vast majority you this upgrade will not make any visible changes in the way you manage your blog. If you wish, you can look over a list of (predominantly technical) changes and improvements introduced in v3 on the WordPress blog or watch a demo screencast.
One small but welcome addition in this upgrade is a modern, new theme called Twenty Ten which promises to make use of all the new features added to WordPress over the last few years. In the weeks ahead we'll be testing it with your blogs and our recommended plugins. Once we upgrade to WordPress v3 it's very likely that Twenty Ten will also be included in our list of supported themes.
Humanities Computing will offer a free, introductory class next week for anyone interested in making a WordPress website for their upcoming conference or graduate student workshop. You can see examples of the kind of site you'll be build after attending the class by looking over the model sites listed in the sidebar on the top right or the far longer list of similar websites underneath. This event is part of Humanities Computing's regular "TechTalk" series and will take place in Rosenwald 405 on Tuesday, Feb. 16th from 12-1:15pm. Attendance is free and open to all. No prior technical knowledge required.
If you'd like to attend but have a scheduling conflict, please send us an email. We may be able to offer the workshop again later in the quarter on a different day in the week. Please keep an eye on this blog or the Humanities Division's events calendar (filter events by sponsor "Computing") to learn of future TechTalks. We plan to offer an intermediate level course for people who already have some experience with WordPress early in the Spring Quarter.
Update: A screencast of the TechTalk is now available for viewing online.
This afternoon we upgraded all of our WordPress based sites to the current version – v.2.9.1.   As usual, the upgrade consists of a mix of improvements and bug fixes. Here is an overview of the new features (copied from the official announcement) most likely to be of interest to you:
Global undo/"trash" feature, which means that if you accidentally delete a post or comment you can bring it back from the grave (i.e., the Trash). This also eliminates those annoying "are you sure" messages we used to have on every delete.
Built-in image editor allows you to crop, edit, rotate, flip, and scale your images to show them who's boss. This is the first wave of our many planned media-handling improvements.
Easier video embeds that allow you to just paste a URL on its own line and have it magically turn it into the proper embed code, with Oembed support for YouTube, Daily Motion, Blip.tv, Flickr, Hulu, Viddler, Qik, Revision3, Scribd, Google Video, Photobucket, PollDaddy, and WordPress.tv (and more in the next release).
Humanities Computing is still testing whether all of our supported WordPress themes will be able to take advantage of the easier method to embed videos introduced with this release. For now, it looks like not all themes will immediately be compatible. For this reason, it's best to continue to use the multimedia plugins you've employed in the past for embedding video and audio on your site (ideally in conjunction with Podcast Producer).
We'll send out an announcement soon about a special hands-on session for new WordPress users to acquainted with web publishing and for returning users to learn about new features. Until then, please take a look at the short video introducing the new features in WordPress v2.9.
5th Annual Slavic Linguistics Conference. Jointly sponsored by the Slavic Linguistics Society, the Slavic and Linguistics departments, CEERES and the Chicago Linguistics Society.
Design Notes:
Simple conference website using the MistyLook WordPress theme. The front page can continue to be used for updates, news, schedule changes, announcements etc using posts while the rest of the site content is built on pages. The site uses a Page widget on the right in the sidebar for navigation. To prevent the list of pages from appearing twice the default horizontal page menu at the top of the site was turned off in the theme options for all pages except "Home".
The Material and the Code is a two-day symposium at the University of Chicago's Film Studies Center on February 26 & 27, 2010.
Design Notes:
A very simple site with a visually striking header image whose colors match the default background color of the Traveller WordPress theme. The site repeats the default horizontal page menu underneath the menu in a vertical menu in the sidebar. A recent posts widget keeps track of additions to the site. The site also makes good use of the space set aside by the theme for a site tagline to complement the site title.
The African Studies Workshop is an interdisciplinary forum for graduate students and faculty whose work concerns the material and sociocultural lives of people of the African continent and its discursively constituted diasporas, presently and historically.
Design Notes:
A very simple, but well-organized and effective workshop site based on the BlueSky WordPress theme. Individual events are listed as posts on the home page and tagged with one of several categories. These are then displayed using the Category widget in the sidebar allowing one to search through past events by topic.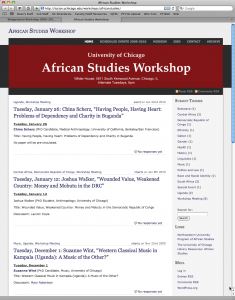 The law stands at the center of virtually every social, political, linguistic and cultural domain. It plays a critical role in shaping our most basic concepts and categories of thought and identity and responds in turn to social and historical transformations. The goal of the graduate Law, Culture and Society workshop is to facilitate the study of law as a cultural and social institution in both historical and contemporary contexts.
Design Notes:
A very simple, but effective and visually interesting workshop site build on the BlueSky WordPress theme. Individual events are listed as posts on the home page and tagged with one of several keywords. These are then displayed using the TagCloud plugin and widget in the sidebar allowing one to get an immediate overview of the relative number of events in each topic (bigger text = more posts on this topic).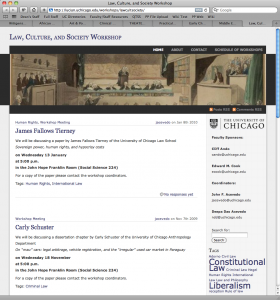 The Center for the Art of East Asia (CAEA) facilitates and supports teaching and research in the rapidly growing field of East Asian Art at the University of Chicago.
Design Notes:
The CAEA site was created using the WordPress Panorama theme. The site employs a few simple tricks to make it appear more like a regular website and less like a blog. As such, its structure is not quite as straightforward as the models listed here in the "Easy" category. Still, the changes are not complicated and can easily be put in place for another site if there is interest. First, the site's home page (where one would normally see individual posts) was re-mapped to the About page (this is because unlike e.g. a workshop, this will not be an event driven site). Second, site makes extensive use of the Panorama theme's provision for drop-down menus (the second menu item under a top level menu is called a "child" – hence parent and child pages). The site's About page for example has two child pages under it called Objectives and Sources of Support. In addition, the theme automatically creates links to these as drop down items in the site's menu under About. Third, all references to page and post comments were removed from the theme to make the site feel less "blog-like". Finally, please also note the rotating header images on the site – this is a special feature of the Panorama theme.