Eugenia Bogdanova-Kummer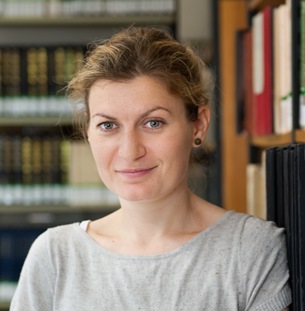 Eugenia Bogdanova-Kummer is an art historian specializing in modern Japanese art and calligraphy history. She received her Ph.D. from Heidelberg University, Germany in 2016, and from May 2017 she will be conducting her postdoctoral research at the Freer and Sackler Galleries in Washington, D.C. Her current book project focuses on the Japanese postwar avant-garde calligraphy group Bokujinkai and its international connections with the Euro-American abstract art scene. She is also interested in wartime calligraphy history and its role in Japan's colonial art policy and international diplomacy.
Abstract
Media and Photography between Postwar Japanese Calligraphy and Action Painting
The connection between Japanese avant-garde calligraphy and Euro-American abstract art is one of the most fascinating examples of the early postwar global art exchanges, which shaped an entire generation of artists across the globe, including Georges Mathieu, Pierre Alechinsky, Franz Kline, the Bokujinkai group or the Gutai group. This paper focuses on one aspect of this interaction: the connection between avant-garde calligraphy and international action painting. The paper shows that in the 1950s and early 1960s Japanese avant-garde calligraphy was readily perceived in tandem with international action painting, both in and outside Japan, and it argues that mass media such as rapidly developing television and film, as well as photojournalism, played a crucial role in establishing this connection on the global scale.