Enrico Isamu Ōyama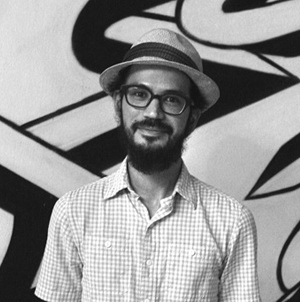 Enrico Isamu Ōyama was born in Tokyo in 1983 to an Austrian-Italian father and a Japanese mother. Ōyama encountered graffiti culture when he lived in Italy in 2000–01, and initiated self-taught creation. After his return to Tokyo, he started drawing the minimal motif of repetitive lines developed from the visual language of graffiti culture. After attending the MFA program at Tokyo University of the Arts in 2007–09, he named the motif Quick Turn Structure. He lives and works in New York.
Artist's Statement
In graffiti culture, a name, composed of stylized letters, represents writer's alter ego. I remove letter shapes, extract only the flowing line and repeat it to maximize its dynamism. By doing so, I create an abstract motif. Instead of having a new name for my self, I gave a name to the motif: Quick Turn Structure.

What was once a name representing one's alter ego is turned into plain visual objects. Lines slash back, spin, and interlock. Facet-like surfaces generate three-dimensional depth. Those visual objects create a complex shape through minimal yet spontaneous expansion. Its tightly knit structure multiplies by intrinsic order and grows without hardening up.

QTS has its own life. Its physical manifestations are channeled into unique art pieces from one specific moment in time. The pieces are called FFIGURATI, a term referring to the word "graffiti" and the Italian expression "figùrati" (literally meaning "figure it out yourself"), numbered in the order of their creation.