Students and faculty from a variety of disciplines are increasingly building corpora of personal research images from archives, fieldwork, and other collections. Personal archiving platforms can help students and faculty organize and log metadata as they build increasingly larger personal collections of images, audio, and video files. There are many platforms that can be used to manage your personal research archives, but we've selected three free options to review. Here you can compare platforms and determine which features are best suited for your purposes and explore demo collections for each platform.
If you'd like to discuss strategies for starting and maintaining your own personal image archive, please write to visualresources@uchicago.edu to schedule an appointment.

If you are an ARTH PhD student planning research travel, please consider participating in a collaboration with the VRC to manage your personal image archive and contribute a subset of around 200 images of your research photographs to the VRC for inclusion in LUNA. See the PhD Student Research Photo Archive Collaboration page for more details. See an example of UChicago PhD student Yifan Zou's archive from Teotihuacán on LUNA.

Organizing your Personal Archive
File Naming Conventions
Having a set file-naming structure will create a cohesive archive of images. As your image collection grows, it can be useful to include a small amount of metadata within the file names to help organize and search for your files. Storing this information within a database like Tropy or Airtable in addition to folders on a hard drive can expand the organization of your archive while allowing for more extensive metadata. See the Research Guide from the University of Michigan for file-naming examples.

Platforms
Why choose ARIES? ARIES (ARt Image Exploration Space) is a tool for organizing, arranging and comparing images as a first step in creating a digital exhibition. It functions as a virtual light box that allows for multiple images to be compared to-scale within a project. It allows for dynamic image viewing with zoom and overlay features. Metadata can be created and imported for individual images. Images can be sorted and tagged within the platform.

To view the ARIES demo: Please write to visualresources@uchicago.edu and we will share the login information and instructions with you.

Features:
Metadata can be batch uploaded via a spreadsheet, .csv file, or entered by hand

If you'd like to include images scanned by the VRC in an ARIES project, please write to visualresources@uchicago.edu and let us know which images you'd like and we can modify the data import for you based on our LUNA catalog records

Can export the information input on Aries as a .csv.
Within each project, you can create Groups of images which can be saved
Can search by metadata tags
Can view and compare images by geotags, timeline, or relative size
Does not support MP3/audio files, tiffs, or PDFs
Why choose Airtable? Airtable is useful for researchers looking to collaborate with others to track large amounts of metadata online. Airtable is structured like a spreadsheet and lives online. It operates very similarly to Google Sheets, making it useful for collaborations. The spreadsheet allows for multiple fields of metadata to be input and can store images online.
To view the Airtable demo: Please write to visualresources@uchicago.edu and we will share the login information and instructions with you.
Features:
Supports JPEG, TIF, MP3, and PDFs
Can upload MP4 files, but cannot be previewed in Airtable (will allow for download)
Easily drag and drop images to enter into spreadsheet
Stores image files to view as a thumbnail in chart, open image to full size in expanded window (can be downloaded with original resolution)
Can download spreadsheet as a .csv file and import spreadsheets and .csv files (2 MB limit on .csv uploads)
Can sort entry fields alphabetically. Can search for a specific entry (i.e. 'Henry Ives Cobb'), but cannot permanently sort according to a custom search.
The "Multiple Select" field type allows for custom tags to be created and applied to entries
Column where collaborators can be added per line, and the spreadsheet can be shared via link (it'll notify them similar to Google Docs)
The "Group by" feature is great for sorting by repository
Why choose Tropy? Tropy is useful for researchers looking to manage large quantities of photographs taken in archives and the field. It is especially helpful for dissertation and thesis writers looking to add personalized notes to specific images.

The Tropy program is downloaded and installed on a local machine, and is best used for very large image collections. Using a system of folders to organize files, descriptive metadata can be input for each image. Notes and annotations can be added to files, allowing for customized searches through the collection.

To view the Tropy demo:
Download and install Tropy from https://tropy.org/
Download the VRC's Project File: Image Set for Demos.tpy from Box at this link.
Download the VRC's image set from Box at this link.
Save the .tpy file and folder of images in your Documents folder or your Desktop, wherever you prefer.
In Tropy, click File > Open in the top menu bar. Then, navigate to where you saved your .tpy file. Select it and click open. This will load the VRC's sample records into your Tropy application.
Click on the first record for "Beethoven, artist at work." In the right hand bar in the Photo section, right-click on the error message with exclamation point and click "Consolidate Photo." Navigate to where you saved the folder of images choose the file 7170966.jpg. When Tropy asks you if you'd like to update all records, say yes. This will load and link all of the images into the data records. You now have a working Tropy demo to explore!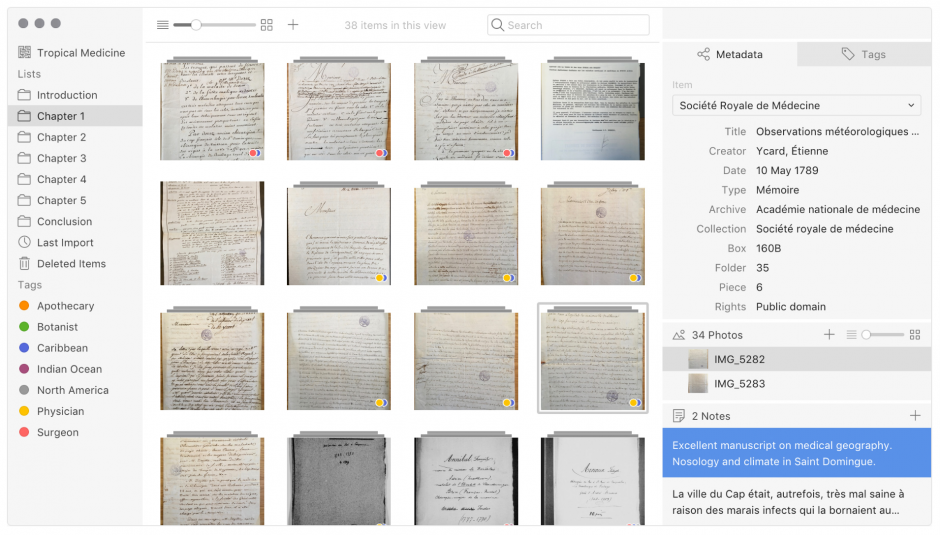 Features:
Must be downloaded and installed on local machines
Does not provide support for audio files, does support TIF, PNG, JPEG, GIF, and PDF
Non intuitive function for searching by tags (tags live on the left and righthand side of project screen, all entries tagged with a particular word or phrase will appear when said tag is clicked). Metadata searches use search bar located at top of project screen)
Metadata entry provides option to toggle between three data formats: Dublin Core, Trophy Generic, and Trophy Correspondence
Each entry allows for notes to be added underneath photo on image menu
Can scale in and out with + and – on image menu
Good for documents; don't need to be high quality images. Manage large quantity of archival images; they can be grouped together under one file
Great for extensive note taking, can select sections to add notes separately
Doesn't allow for side by side comparison of images
Support forums available on Tropy website https://forums.tropy.org/
Cataloging Resources
If you are interested in learning about methods for exhibiting digital images, visit this guide on Digital Exhibition Platforms.
The demo sites and documentation were prepared in collaboration with colleagues at Academic Technology Solutions and the University of Chicago Library:
Allie Scholten
Digital Collections Manager, Visual Resources Center
The University of Chicago Department of Art History
ascholten@uchicago.edu

Bridget Madden
Associate Director, Visual Resources Center
The University of Chicago Department of Art History
bridgetm@uchicago.edu
Cecilia Lo
Academic Technology Analyst, IT Services
University of Chicago
cclo@uchicago.edu
Nancy Spiegel
Bibliographer for Art, Cinema and History
University of Chicago Library
nspiegel@uchicago.edu