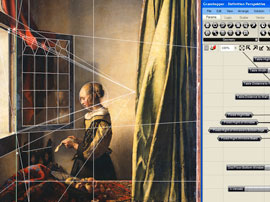 An interdisciplinary team in Dresden has visualized Vermeer's painting Girl Reading a Letter by an Open Window in 3D. The project makes use of X-ray and microscopic examinations of the painting, computational reconstructions of 2D space depicted in the painting, 3D animations, scale and lifesize models, costume and makeup reconstructions, and more.
The reconstruction has been used to analyze various aspects of the painting and related works by the artist, including the construction of perspective and atmosphere in his paintings, the use of technical and visual aids, and Vermeer's work and living environment.
For more information, see the project website.