Eric Slauter, Director
My scholarship focuses chiefly on transformations in political thought and behavior in the eighteenth century. My first book, The State as a Work of Art: The Cultural Origins of the Constitution, examined the relation of culture to politics in revolutionary America. I was especially interested there in how the emergent state was challenged in its effort to sustain inalienable natural rights alongside slavery and to achieve political secularization at a moment of growing religious expression. In another book project, Natural Rights: A Cultural History, 1689-1789, I hope to explain how and why ordinary people came to believe they had rights before and through the Revolution.I specialize in early American cultural, intellectual, and literary history, with additional research and teaching interests in a range of fields and methods: legal history; the history of political thought; book history; visual and material culture studies; quantitative analysis; the history of slavery, abolition, and emancipation; labor history; environmental history; and Atlantic history.
I am invested in recovering the lives and thought of under-documented people in America's past, and am currently completing a short book on Scipio Moorhead, an enslaved "African painter" who lived and served in Boston in the 1760s and 1770s. Scipio Moorhead was one of 5,000 slaves in Massachusetts on the eve of emancipation in 1783. I try to place him at the center of his own story, using the life of one individual as a way of understanding the nexus of personal choices and social forces that attended the erosion of slavery in parts of revolutionary America.
I am also fascinated by the material history of books, and am working on a project entitled Walden's Carbon Footprint: People, Plants, Animals, and Machines in the Making of an Environmental Classic. A blend of environmental, labor, and literary history, the project examines the supply-chain of raw materials in the 1854 first edition of Thoreau's book (from cotton-based paper and linen thread to animal-skin glue), considers the many people who contributed to its production (including enslaved African-Americans in the South, commodity brokers, northern mill workers, European rag-pickers, and women and children in the printing trades), and reflects on the literary genealogy of our contemporary desire to know the origin as well as the environmental and social impact of objects in our daily lives.
Tara Rutledge, Center Coordinator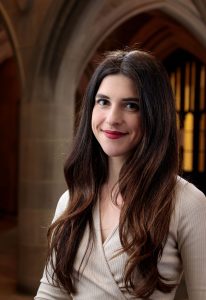 Classics 114
As Coordinator of The Karla Scherer Center for the Study of American Culture, Tara manages the Center's communications, finances, and daily operations. Tara previously earned an M.A from the University of Chicago's Divinity School, focusing in Modern Jewish Thought. Outside of her work at UChicago, Tara enjoys writing (short stories and poetry), reading, and cooking. As a native of North Carolina, she also loves exploring Chicago and attending cultural events.