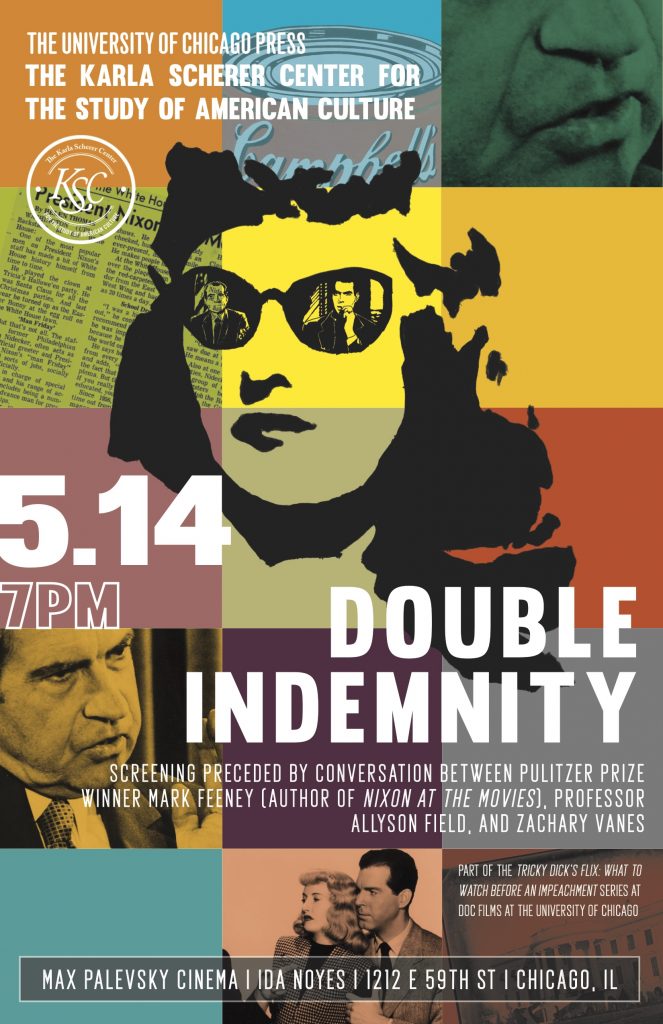 Tuesday, May 14 –– As the capstone event of DocFilms' currently running series Tricky Dick's Flix: What to Watch Before an Impeachment, the Karla Scherer Center presents Pulitzer Prize winner Mark Feeney introducing Billy Wilder's landmark film Double Indemnity. Mark Feeney is author of the book Nixon at the Movies (UC Press), which delves into President Nixon's enthusiasm for film and the ways in which Nixon's character and Hollywood mythos can be thought of as entwined. (Not only did Nixon's life coincide with the development of Hollywood [both born in 1913], but, as Feeney reports, Nixon screened some 500 films in the Whitehouse during his presidency––his film watching habits ballooning during Watergate.)
DocFilms series Tricky Dick's Flix seizes on Nixon's screening list during his final months in the Whitehouse, and is closing the series with Double Indemnity. To mark the close of the series, Mark Feeney will provide an introductory lecture to Double Indemnity and what the film might say about Nixon and his state of mind during his collapsing presidency.
Before the screening, The Scherer Center will be hosting a conversation between Zachary Vanes, DocFilms curator of the Tricky Dick's Flix series, and Mr. Feeney––their conversation will be moderated by Scherer Center Interim Director and Associate Professor of Cinema and Media Studies Allyson Nadia Field.