SOUTH ASIAN SOUND INTERVENTIONS (SASI) SERIES
A balanced regional representation of classical, popular, and vernacular musical repertories, this performing arts series provides opportunities for sustained engagement with South Asian artists and art worlds in our community. Guided by professional performers renowned for their originality, these events explore intersections of pedagogy and creative innovation in musical practices situated outside the canonic traditions of the Indian subcontinent.
*FREE* UPCOMING SASI EVENTS
An Evening of Karnatak Music ~ Saturday, February 8 • 7:00 PM
Performance Penthouse, Logan Center for the Arts

Minu Pasupathi, vocals (pictured above); Akshaya Kannan, vocals; Prasod Ramachandran, violin; and Ravishankar Subramanian, mridangam
Sponsored by the University of Chicago Arts Council, Committee on Southern Asian Studies (COSAS), and Department of Music.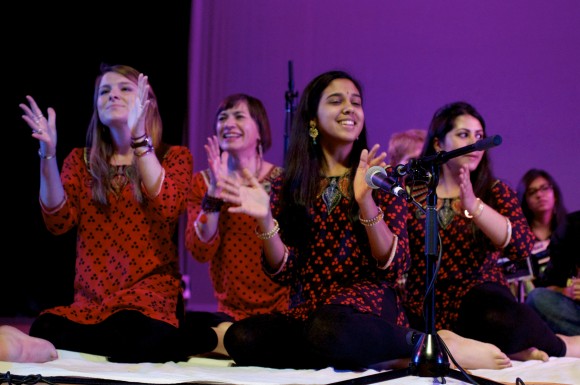 Two-day series of events: "Affective Labor in Dance: South Asia and Beyond"

Friday, April 18 • 12 PM ~ Fulton Recital Hall, Goodspeed Hall
Symposium, featuring paper presentations, panel discussions, and a keynote lecture by Pallabi Chakravorty
Saturday, April 19 • 11 AM ~ Performance Penthouse, Logan Center for the Arts
Dance workshop led by kathak dancer Joanna de Souza
Saturday, April 19 • 7 PM ~ Performance Penthouse, Logan Center for the Arts
Dance performance by kathak dancer Joanna de Souza and other artists
Spring festival performance by South Asian Vocal Ensemble

Saturday, May 17 • 5 PM ~ Logan Center, Performance Penthouse
Reception to follow