Each year, conductor and Director of Performance Programs, Barbara Schubert, finds a new way to keep us in suspense and consequently, absolutely delighted by her grand entrances at the Annual Halloween Concerts. At last year's concert, Cosmic Adventures!, the conductor emerged from a handmade, eco-friendly spaceship wearing a sparkly jumpsuit with cape that even Evel Knievel would've loved. The year before at Legends of Fright, she road into Mandel Hall on a huge shark!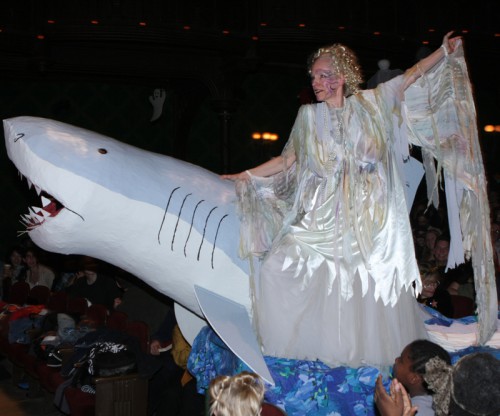 Only a select few know her secrets. (I'm usually one of them so bookmark this blog!) But at this early stage, even I have no idea what will happen. After hearing the title of this year's concert, Witches of Yore, I could only have speculated. But I would've been wrong. VERY WRONG.
And since my curiosity often gets the best of me, I asked Maestra Schubert what kind of witches would best represent this concert's aesthetic. She relayed that she didn't want to do anything related to those cutesy  American Halloween witches. No pointy hats or cackling laughter. No bubbling cauldrons or evil black cats. No. She was looking for something more along the lines of … the Brothers Grimm, those master creators of depraved fairytales (that were subsequently sugar-coated by Disney), and she asked me if I knew who "Baba-Yaga" was … to which she received a wide-eyed stare.
Oh yeah. I've heard of that grotesque, blood-speckled, children-eating witch Baba-Yaga. *shudder* I wondered to myself, "Is THAT what she's going for this year??"
We can only wait … and hope.
~~~~~
Witches from Slavic and Russian folklore convene on Saturday, October 30th in Mandel Hall for this year's USO Halloween concert:  the infamous Baba-Yaga, as portrayed in works by Liadov and Mussorgsky;  the frightening Noonday Witch, as sketched in a tone poem by Dvorak;  and the notorious "munching witch" from Humperdinck's Hansel and Gretel. The Hyde Park School of Dance joins the costumed University Symphony Orchestra for two family-friendly performances at 7:00 pm and 9:00 pm, enhanced by story-telling and a variety of special effects.  Audience costumes are encouraged.
Donations requested at the door:  $8 general;  $4 students and children. Children under 12 must be accompanied by an adult. (Lest they be captured and eaten!)