The site is being updated.. please come again soon.
Website for the Adaptation exhibit at the Smart Museum of Art.
Design Notes:
As was the case with OPC, this website is unusual in that it is based on a custom WordPress theme built to order for the Smart Museum by Neoteric. As such, it should best be seen as an example of the degree to which WordPress themes can be modified. Very little, if any "blog like" elements remain on the site. Of special note is the striking typography in use throughout the site both for individual headers or titles and in navigation elements.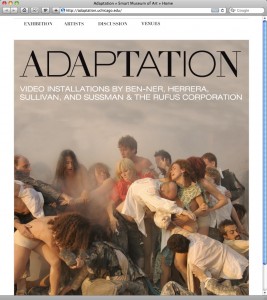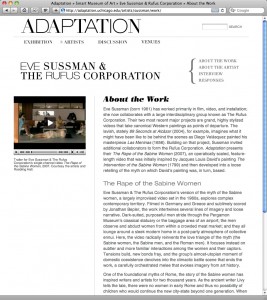 The graduate Wittgenstein Workshop aims to foster a variety of forms of interdisciplinary research that take their point of departure from a shared interest in Wittgenstein's intellectual achievement.
Design Notes:
The Wittgenstein Workshop site uses the MistyLook WordPress theme to very good effect to create a very good looking, easy to navigate and well organized site. The restrained design elements are particularly well coordinated here by the matching color palette and calm quality of the header image. The coordinator of the site has opted to leave just one (current) event on the home page, re-writing this as needed. Older events are placed on the Archive page. Another way to achieve the same effect would be to continue writing a new post for each event but then limit the number of posts that can appear on the home page to one. WordPress will then generate a running archive of past events automatically, sorted by month and year. Another advantage of using one post per event is that events can now be assigned tags and categories. In this way one can quickly view all events about a certain topic, by a certain speaker etc.
The Virtual Tourist in Ancient Rome symposium brings together scholars from the United States and Europe to address new directions in research on Renaissance antiquarianism and visual culture, including those making use of digital technology.
Design Notes:
This is a very simple site built on the NigaRila WordPress theme. It has a clean and simple design that relies in large part for its positive effect on the striking nature of the custom header image. A site like this with a solid color header is likely to be visually less effective. This was one of the first sites we created in WordPress for conferences. Today we would probably structure the site navigation a little differently (using a horizontal menu under the header image for example). However it's still worth considering as a model as an example of how much can be done with very little effort. The whole site was put together in 20 minutes.