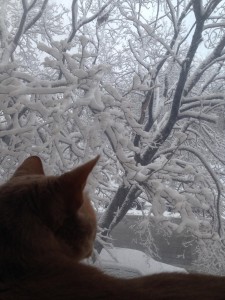 It was 50 degrees Monday. The snow/ice was melting, the sun was peeking out, undergrads were wearing shorts. Sure, now it looks like Gethen out there, but it's still almost spring. I don't need to tell you that with Spring comes some important deadlines (like the thesis), but never fear, you have time to start thinking about things. And we are here to help.
There is a detailed list of this summer's MAPH internships  below. But first, here are some dates to put on your calendar:
Spring Break Thesis Write-In: March 24-28 (I cannot recommend this heartily enough! More info & registration here.)
Mentorship/Internship/Externship Application Kickoff: Friday, April 4 at Noon (location TBA). Come ask us questions about these offerings!
MAPH Resume & Cover Letter Workshop: Friday, April 11 at Noon (location TBA)
Internship and Mentorship Application Deadline: Friday, May 2
Keri, Tavi, and I will likely have new office hour slots next quarter, but we are around next week!
Keri: Thursday, 3/20 from 9 until 11 am
Jessi: Wednesday, 3/19 from 2:30 until 4:30 pm
Tavi: Thursday, 3/20 from 1:30 until 3:30 pm
We are also available during other times, so please do not hesitate to reach out if you would like to meet but can't make our office hours. Also, Mearah will be having open office hours over at Career Advancement from 3-5 pm every Thursday next quarter. We definitely recommend stopping by to see her!
And now for the internships themselves… Continue reading →