In case you missed Jessi's excellent post on AWP on AfterMAPH, MAPH's Alumni blog, check out some highlights of AWP 2014 below:
"Find the place that scares you most and run to it." — Eric McMillan (MAPH '10) on writing and, well, life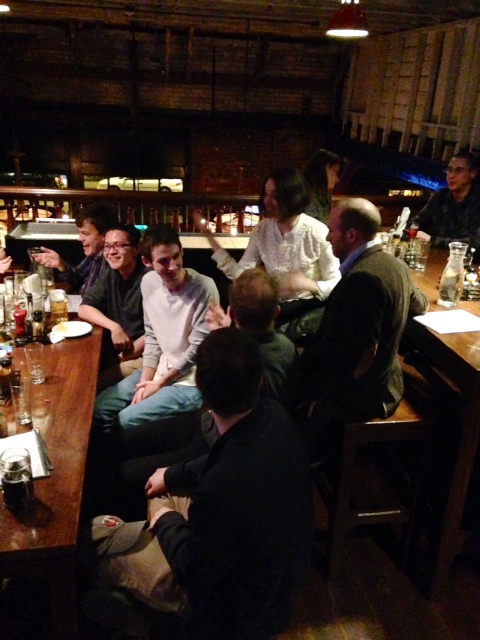 Talking Craft: (from left) Evan Stoner ('14), Hao Guang Tse ('14), Andy Tybout ('14), Chris Robinson ('14), Joel Calahan ('05, current preceptor), Eric McMillan ('10), Hilary Dobel ('09)
Last night, while leading eight current MAPH creative writers on an uphill March from the Seattle's Washington State Convention Center to Von Trapp's in Capitol Hill, I was marveling (aloud, perhaps unfortunately for my companions) about what going to the AWP conference can do for an aspiring writer. We were on our way to the second-ever MAPH/UChicago Alumni offsite reading at AWP. Earlier that morning, my colleague A-J Aronstein and I had stopped by a panel featuring the poet and teacher—and reader at last year's offsite event—Shaindel Beers(MAPH '00) entitled the "Art of Difficulty." Using beautiful language, Shaindel described teaching poetry students in prisons, schools, etc. as finding a way of "giving permission." To write, one has to believe that they have something worth saying, a voice worth hearing. To Shaindel, it is a writing teacher's job to nurture that belief, to create a space for it to thrive.