MAPHletes! You are sprinting towards mid-quarter and keeping up a great pace! You're starting to feel a bit of chill in the air, and it can be easy to just hole up in the Regenstein and study. (Note: studying is good and generally encouraged.) But while it's still livable outside you might also want to explore more of Hyde Park and clear your mind. What better way to do so than with free stuff? To point you in that direction, here's the second installment of Morgan Podraza's "How to Do MAPH on a Budget."  Enjoy!
10 Free Things to Do in Hyde Park:
If you live in Hyde Park, it's going to be difficult to get out of Hyde Park during MAPH. For me, I was always thinking things like: "but that hour that I spend traveling back-and-forth could be spent in an attempt to understand what Lauren Berlant means by a slow death." Don't worry! There are plenty of great things to do in HP between paragraphs of LB.
• The Smart Museum of Art (5550 S. Greenwood Ave.)
This museum is located on campus and collaborates with scholars to "establish itself as a driving force for creative thinking through the arts at the University of Chicago." The exhibits include Asian art, contemporary art, something referred to as "old master" European art, and modern art/ design.
• The Oriental Institute (1155 E. 58th Street)
This museum is located on campus between the Quad and the Booth school. Not only does the Oriental Institute have amazing artifacts of the ancient Near East, including a statue of King Tut, but the museum also offers free programs and events throughout the year. An orientation week event, for example, is "Bulls and Buns:" get some of Anne Sather's famous cinnamon rolls while you check out collections from Egypt, Iran, Iraq, Turkey, and Israel!
• Museum of Science and Industry (5700 S. Lake Shore Drive)
The Museum of Science and Industry is a great building with an interesting history, but it is also HUGE. The bottom level has an entire WWII German U-505 submarine. While the museum can be expensive to visit most days, there are a bunch of FREE DAYS. Just bring your student ID, and you can spend the entire day learning about everything from robots to humpback whales.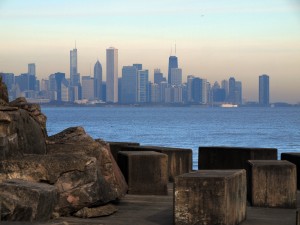 Promontory Point (known also as The Point) has an incredible view of the city and is a lovely place to lay in the sun, or under the trees, and relax. The Point also has a few fire pits, which are the perfect places to eat s'mores and enjoy the company of other MAPHers, but you will need to either get there early to reserve a pit or potentially hang out with some other Pointers.
• 57th Street Beach (57th street and Lake Shore Drive)
As a New Mexican, I was so excited to live next to an actual body of water with an actual beach. 57th Street Beach is a lovely beach and a short walk from Promontory Point. Bring something cold to drink and a book to read (perhaps Foucault's The History of Sexuality, Vol. 1) for a warm day in the sand.  (Editor's note: our warm days might be behind us… But the Point and beach are looking beautiful in their autumnal dressings!)
• Osaka Japanese Garden (6401 S. Stony Island Ave.)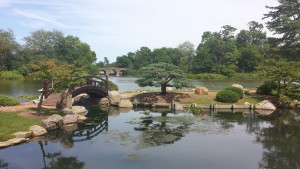 The Osaka Japanese Garden is a zen-like refuge from the fast-pace of Chicago and MAPH. While the Garden closed for renovations this past spring, I believe that it should be re-opened this upcoming spring.
• The Arts Incubator (301 E. Garfield Blvd.)
The Arts Incubator fosters the relationship between public life and art through arts education, community events, exhibitions, performances, and talks. One of the weekly events that I enjoyed was Committed Knitters, where you can bring your coffee and current knitting project to meet other knitters and learn new techniques!
• Reva and David Logan Center for the Arts (915 East 60th Street)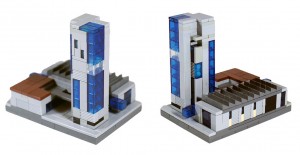 The Logan Center is that crazy grey, glass building that stands across the Midway—my favorite building on campus. There is always something free to enjoy in the Logan Center: the Cabaret Series happens every other week and includes everything from string quartets to slam poets; every Sunday you can listen to music from the Sunday Song Styles performances in the café; and there are always exhibitions of contemporary art throughout the building.
• The Experimental Station (6100 S. Blackstone Ave.)
The Experimental Station is located south of the Midway and hosts a variety of artistic and cultural events, including music, theater, art exhibitions, workshops, and lectures. It is also the home of the 61st Street Farmers Market, which happens every Saturday from 9AM-2PM throughout the year (even in the winter!).
• University of Chicago Events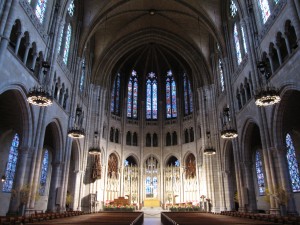 Take advantage of all of the amazing, free events that the University of Chicago offers students! There are so many events to enjoy on campus: the student circus, yoga classes, tea & pipes at the Rockefeller Memorial Chapel, lectures by world-renowned faculty, the Blessing of the Animals, Pet Love (the University brings therapy dogs onto campus, and you just pet them!), and more. To keep track of all the events and happenings, download the University of Chicago app.