Hi, MAPH!  It's been a gorgeous autumn in Chicago which means it's a great time to see what the city has to offer outside our beloved Hyde Park.  And the good news is that there is a lot to do for just a little money!  Here's the final installment of the series "How to Do MAPH on a Budget."  
10 Things to Do in Chicago for $10 or Less: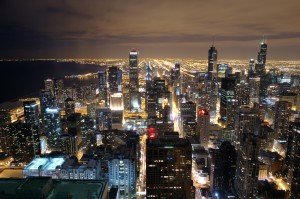 It would be really easy to hang out in Hyde Park from September to June, but it would be a bummer to come up for air in June and realize that you've missed out on LIVING IN CHICAGO. Even though it takes a few minutes to hop on the #6 and ride downtown, it's worth the time and effort to spend some time experiencing Chicago as a human being, rather than simply as an exhausted and over-worked graduate student.
• Be a tourist in downtown Chicago
There are a lot of fun and iconic things to see in downtown Chicago, and it costs nothing to run around for a day and play tourist! Here's a quick list of some things to check out: Cloud Gate (the Bean), Pritzker Pavilion, the Lurie Gardens, Maggie Daley Park, Navy Pier, Buckingham Fountain, and the Crown Fountain (those are the walls with the faces that spit!).
• The Art Institute of Chicago (111 S. Michigan Ave.)
It's easy to get to the Art Institute and, more importantly, it's FREE for students with their University of Chicago ID. Channel your inner Ferris Bueller and enjoy the incredible range of exhibits this museum has to offer. Because you get in for FREE, it's easy to come back over-andover to see the whole museum as well as rotating exhibits.
• The Museum of Contemporary Art (220 E. Chicago Ave.)
The MCA is a little more difficult to get to, but it's definitely worth the trek. Plus, if you take the #6 bus downtown, you can walk through the Magnificent Mile on your way to the MCA! This museum is also FREE with your University of Chicago ID, and you'll have the opportunity to see, hear, and experience a wide range of artistic pieces.
• Intuit: The Center for Intuitive and Outsider Art (756 N. Milwaukee Ave.)
This is a small but phenomenal museum devoted to promoting public awareness, understanding, and appreciation of intuitive and outsider art. The entrance fee is $5, but you will get the opportunity to see a different type of museum while seeing Chicago via the Blue Line. My favorite exhibit at the Intuit is the Henry Darger Room!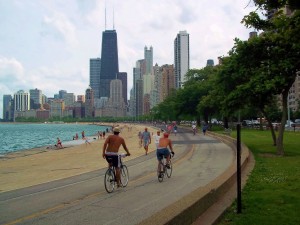 Biking the Lakefront Trail is a lovely way to spend an afternoon. As you head towards downtown Chicago, the view of the city is absolutely breathtaking, and you get to see some interesting pieces of public art that you would miss riding the CTA or driving. If you have a bike or can borrow one from a friend, this is FREE, but if you don't have a bike, rent a DIVVY! These blue bikes are available all over Hyde Park, and the rental fee is $9.95 for 24 hours. NOTE: the 24 hour fee can be tricky! You have to check the bike in every 30 minutes at one of the DIVVY stations, or you will get charged an extra fee. The good news: there are plenty of DIVVY check-in stations along the Lakefront Trail.
• Lincoln Park Zoo & Conservatory (2001 N. Clark St.)
I was amazed to find that Chicago has a FREE zoo, but I was shocked to find that the Lincoln Park Zoo is large and well-stocked. Not only does the zoo have a baby sloth right now, but they have everything that you could want from a zoo: lemurs, gorillas, snakes, birds, aardvarks, giraffes. As if naked mole rats were not enough, the zoo is on the same grounds as the FREE Lincoln Park Conservatory and Gardens. With four display houses, I was blown away by the number and variety of plants that are displayed. Do you know what a sensitive plant is??
• The Signature Room at the 95th Floor (The John Hancock Building, 875 N. Michigan Ave.)
While the restaurant on the 95th floor of the John Hancock building is expensive, you can head
up to the bar and get an INCREDIBLE view of Chicago for less than $10. With a 360º view of the city from above, this is a great place to get a drink with your friends, date, or family. Beers and non-alcoholic drinks are $8-$10, but cocktails are reasonably priced around $15. Not 21? Head over to the bar before 5pm to get in before the evening shift. While the John Hancock building is not quite as tall as the Willis Tower, this is an affordable and delicious way to get a great view of the city on a budget. In my opinion, I would rather pay $10 and get a drink at the Hancock than spend $20 to get to the top of the Willis Tower without a tasty beverage.
• The Empty Bottle (1035 N. Western Ave.)
The Empty Bottle is a fantastic bar that offers live music 7 days a week. Every Friday afternoon at 5:30pm, you can get in for free to hear some Hard Country Honky-Tonk from The Hoyle Brothers. Not a fan of Honky-Tonk? You can also hear a variety of free music on Mondays at 9pm! If you have a few dollars to spend, The Empty Bottle has something for everyone at least one day each week.
• Quimby's Bookstore (1854 W. North Ave.)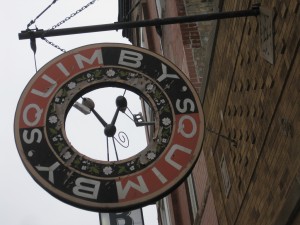 Quimby's is an absolutely incredible independent bookstore that specializes in zines, small press, and unusual publications. There are so many funky, beautiful, bizarre books in this store, and I always found something to love when I went. One of the great things about Quimby's is that they have a lot of books from Chicago-based artists, so it's a cool way to see what the independent book-scene in Chicago looks like. Not only do they have fun events (I met Chris Ware and Ivan Brunetti at a Daniel Clowes signing here!) and handmade books, but prices start at $1.00.
• The Museum of Contemporary Photography (600 S. Michigan Ave.)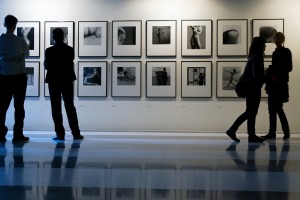 Housed in Columbia College, the Museum of Contemporary Photography is a FREE museum with rotating exhibitions. This museum is intimate and presents photographs with a wide range of aesthetics and technologies. Each time that I have visited the MoCP, I have been blown away by the exhibitions.