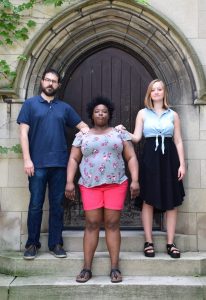 Welcome to MAPHtastic, a (hopefully) amazing and (probably) informative blog about all things (definitely) MAPH! We are your three program mentors, T, Brent and Annie, and we will be updating this blog throughout the year with information on upcoming events, advice on making the most of/surviving your MAPH year, fun things to do around Chicago and cool pictures of ourselves. We will also be posting on Facebook, Twitter and Instagram, so follow us there too!
All three of us graduated from the program this past June, and we are excited to be working in the MAPH office this year as a resource for all of you. We are here to help you with questions about choosing courses, interacting with professors and finding the best spots to grab lunch in Hyde Park (spoiler alert-it's Rajun Cajun). We'll also be planning fun social events to help you all get to know each other. Having just completed the program, we have endless advice on how to navigate this intense but exciting year (seriously, you will have to work to shut us up). Please come by and say hello when you get to Chicago, we love it when new MAPHers stop by! We look forward to meeting you. We will be here through the summer in Classics 117, and you can email us at lacyt@uchicago.edu (T), brentfg@uchicago.edu (Brent) and aewilliams@uchicago.edu (Annie).
Here's a bit about us!