Seth Perlow, MAPH '06, will be returning to UChicago to present his paper, "Making Strangers with Friends: Frank O'Hara and the Telephone," at the Poetry and Poetics Workshop. The workshop will be held on Monday, January 25th in Rosenwald 405, 4:30 – 6PM. Having obtained his PhD from Cornell in 2013, Seth is now an assistant professor in the English Department at the University of Oklahoma.

Seth kindly agreed to answer some questions we, the Mentors, asked him about his work, the paper he will be presenting, his MAPH experience, and his path from MAPH to where he is now.
How has MAPH impacted your career choices?  What has your career trajectory been like since graduating and how did your experience in MAPH affect this?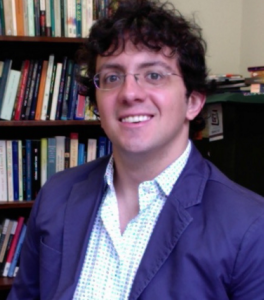 Like many students beginning MAPH, I hoped afterwards to pursue a PhD and an academic career. A year of experience in graduate school leads some MAPHers to rethink this plan, but I was not dissuaded and applied to several PhD programs in English the autumn after graduating. When I began the MAPH program, I knew my undergraduate work had not fully prepared me to be a competitive applicant to top doctoral programs, so the MAPH experience for me involved not only learning a great deal intellectually but also learning what it means to be a graduate student and how to succeed in those early professional steps. Along with support from the UChicago faculty I got to know, the MAPH directors and preceptors were extraordinarily helpful as I began to develop applications to doctoral programs; several continued to consult with me and wrote recommendation letters after I had graduated and moved away. After MAPH, I enjoyed one belated "gap year," during which I worked as a copyeditor in New York, completed graduate school applications, and then moved to Paris for six months to learn a little French. I then enrolled in the PhD program in English at Cornell University. When I began doctoral work, I found that MAPH had prepared me to succeed in graduate study by helping me develop advanced research skills, scholarly discipline, and most importantly the sense of intellectual community that keeps me engaged with research. Since finishing at Cornell in 2013, I have worked as an assistant professor of English at Oklahoma State University, as the NEH Postdoctoral Fellow in Poetics at Emory University, and now as an assistant professor of English at the University of Oklahoma.
What kind of academic projects and questions are you currently working on?
I'm currently working on a book manuscript titled The Poem Electric: Technologies of Uncritical Thinking in American Poetry, which identifies a lineage of experimental writers who use electronics to distinguish poetic thought from rationalism. Most scholars studying the relation between literature and technology understand electronics as "information technologies," instruments for logical, data-oriented tasks, but anyone who has used a computer knows electronics just as often leave us disoriented, confused, inspired, or excited—mental states not typically associated with cool, rational thinking. Writers in The Poem Electric use electronics to pursue and sustain these less orderly mental states, which they view as poetically valuable in one way or another. Of course, there is a long tradition of valuing poetry for its uncritical character, its difference from rationalism; this tradition goes back at least to the romantic poets and arguably much farther. So one question motivating this study is to ask what happens when a literary genre so often valued for its difference from critical thinking begins to circulate through a family of technologies predominantly understood as logic-engines, rational machines. To answer, this project looks at writing by a wide range of poets and scholars, from Emily Dickinson and Gertrude Stein to Frank O'Hara, Susan Howe, and Jackson Mac Low.
What does your role at the University of Oklahoma look like on a day-to-day basis?
At the University of Oklahoma, I teach graduate and undergraduate seminars in American literature, poetry and poetics, and new media studies. As a tenure-track faculty member, I also spend time developing my own research and undertaking service for the department, the university, and the profession.
What drew you to further graduate studies in poetry and poetics?
I became interested in poetry during middle school. Perhaps at my own peril, I took seriously the parental truism that I could do whatever I wanted with my career, so I decided to work with poetry professionally long before I had a realistic idea what doing so would entail. Both my expectations and my priorities have changed a lot since then, but I'm still finding new kinds of inspiration and intellectual challenge in poetry and its criticism.
How have you integrated your academic and creative interests into your career?  How would you suggest that current students think about this for their future?
Only after completing my PhD and having the incredible good fortune to find a tenure-track job has it become clear to me just what a wide variety of humanities-related career paths are out there. This is something I've learned in part from my own students and in part from my peers in graduate school who did not continue to pursue academic careers. Among these many possibilities, I'm very lucky to have a job that directly involves teaching and writing about the literature that interests me most; it's a wonderful kind of work. No doubt current MAPH students are aware that tenure-track professorships in the humanities become rarer every year and that the employment conditions for non-tenure-track instructors, even at the best universities, can be very unpleasant. I am therefore tempted to offer the standard admonition against pursuing an academic career in the humanities, but I received that warning plenty of times myself and did not heed it. Instead, here are three thoughts for those considering a similar career path. First, if you hope to find a tenure-track position, you will have to be not only smart and industrious but also very lucky. There are so many applications for such jobs that a certain amount of randomness inevitably shapes the outcome; trying to accept this fact may spare you some anguish as you complete your PhD. Second, if you would not be willing to relocate to any conceivable part of the US, or perhaps abroad, then you probably should not pursue a PhD in the humanities. Applying for tenure-track positions only in certain areas is a great way not to get a tenure-track job. Third and most importantly, if you decide to pursue a PhD in the humanities, try to develop a "plan B," a career you'd find interesting that would not involve teaching college. Many great students graduating from the best PhD programs cannot find suitable academic employment, and when my own professional future was less certain I envied those who already had some idea what they'd enjoy doing instead.
Could you tell us a little about the paper you'll be presenting at the Poetry and Poetics workshop, "Making Strangers with Friends: Frank O'Hara and the Telephone"?
This paper is an excerpt from the third chapter of The Poem Electric. Each chapter of the project focuses on a particular mode of uncritical thinking that poets use electronics to pursue. This chapter discusses anonymity. It argues that the poet Frank O'Hara counterposes the telephone with his techniques of poetic address—that is, his poetry's calls to friends or to an anonymous "you"—in order to explore how anonymity and disconnection shape social experiences. Many scholars today criticize how electronics mediate our social lives, isolating us behind our screens even as they connect us, but in the 1960s O'Hara understood the social effects of electronics quite differently.