Planning on writing during Spring Break? Looking for something to keep you motivated?
Regardless of whether you have a thesis, seminar paper, or other project to work on, Spring Break can a good moment to catch up, even while you're taking a deep breath. At the same time, it can feel
difficult to get motivated and isolating to work–especially when it seems like no one is on campus, and there's no class to attend. From March 21-25, join master's students from across programs for three hours (9AM-1PM in Classics 110) of intensive writing each day.
UChicagoGRAD will provide coffee and breakfast on Day One, and lunch every day. Lunch is from 12-1. You're free to keep writing after, until 1:45. Put your money where your mouth is: put down a deposit of $50. If you attend every day throughout the week, you get your money back, no questions asked! Space is limited as this is annually a popular event. Bring your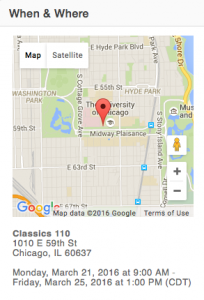 deposit to Levi Hall 224. Questions? Contact Kalee Ludeks (kalee@uchicago.edu). To register, follow this link!
This much-loved event is not to be missed!
If you have any questions about this event or maintaining winter-quarter momentum over Spring Break, do come see the mentors.
All the best,
The Mentors