[The following is a guest post from Ariella Phillips, current MAPHer and dramaturg for the production of Ulysses about to be mounted in Classics 110. Check it out! – the MAPH team]
—
Dear MAPHers, it's time to treat yo'selves.
Spring has sprung. It is the season for iced coffees and adventuring outside. The thesis cloud over our heads the past two quarters has lifted and the Prom is around the corner. In sum, we are almost finished with our astonishingly brief year here at the University of Chicago.
So with all that newfound relief and celebration, I cordially extend an invitation to come see a new adaptation of James Joyce's Ulysses by the Whiskey Rebellion Theatre Company! Meant for Bloomites and the uninitiated of Joyce's behemoth of a masterwork alike, the play creates the world of June 16, 1904 Dublin in a UChicago classroom. Ulysses 101 was adapted and directed by a pair of U Chicago graduates that understand that a quarter here at U Chicago is not just ten weeks of classes, it's a journey of Homeric proportions.  We may be exhausted, and anywhere on the spectrum of mildly stressed to in a white knuckled panic about the approaching booting us out of our ivory tower into "the real world." But as Buck Mulligan might say, it is all fine and good to live the life of the mind, but let's give up the moody brooding! Let's celebrate! Let's laugh! Let's make poop jokes! Let's enjoy a story about the small, dirty truths of being human.
Hope to see you all there!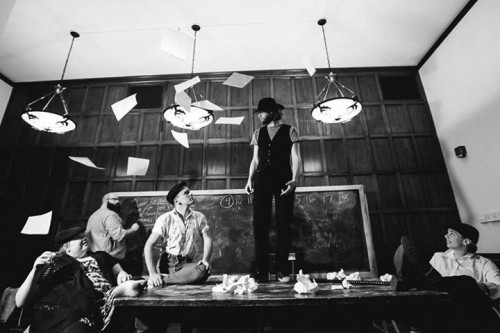 Pertinent information below the cut: