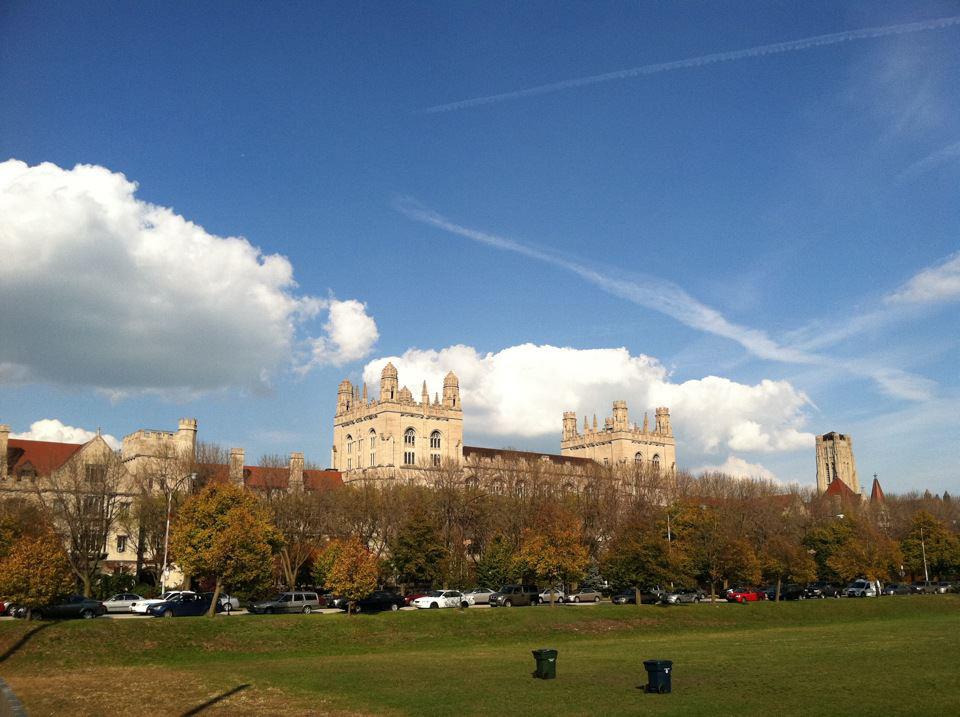 Welcome to our newly admitted future-MAPHers! This is our informal current student blog (current students are currently finishing up the tenth and final week of Winter Quarter. They're just about 2/3 of the way done with their degree, and almost 80% done with Winter). It's a stressful time of the year, but a week during which we're all suddenly able to see the light at the end of the tunnel.
First of all, congratulations. We hope that we'll see you April 15-16 for "Campus Days," which a great opportunity to preview the University and meet faculty, MAPH staff, and most importantly each other. You'll get a brief glimpse of the diversity, energy, and rigor of our program–and with any luck, campus will already be in its warm, welcoming spring colors.
I'm MAPH's Outreach Coordinator. I graduated the program in 2010, having spent two years in Washington, DC as an advertising sales representative (which means, essentially, that I went home and screamed as loud as I could every night for 690 consecutive nights). I applied to PhD programs as a kind of escape from the horrors of the "real world," hoping to spend some years reading books in the safety of the academy. I wrote a personal statement about politics and modern literature, a writing sample about 9/11, and mailed off what I thought were 10 very strong applications.
And I got nine rejection letters over the course of three weeks between February and March.
But I also got an unexpected letter from the University of Chicago. I knew nothing about MAPH three years ago, and I almost immediately wrote off the possibility of coming to UChicago. Looking back, three years later, I can't really recall the specific reasons that I changed my mind. But I'm glad that I did.
Many of you applied directly to the Program, so you already know a lot about our community, our interdisciplinary approach to humanistic inquiry, and the degree to which our students improve their writing and thinking over the course of nine incredibly short months. At the University of Chicago, you (no bull) will have the most intense academic experience in your careers as students. But equally importantly, you'll have the opportunity to find out what your chosen discipline–English, philosophy, art history, linguistics, anthropology, and whatever else–means to you. You'll not only develop critical skills. You'll also think hard about what the next step will be.
For many of our students, it's a PhD at a top institution. Friends of mine from the past two years of MAPH have recently been admitted to programs at places like Duke, Wisconsin, Indiana, UCLA, UChicago, Johns Hopkins, and NYU (in English); UPenn (anthropology); Northwestern (philosophy); Cornell and UChicago (Linguistics and Southeast Asian Studies), and the list goes on.
For others, MAPH is an opportunity to decide how to pursue life of the mind in any number of career tracks. Every single one of our students is a committed life-long intellectual. But probably only about a quarter decide that they truly want to get a PhD after doing a year of graduate work. A huge part of my job is to connect current students with alumni and career resources. We have extensive professional advising opportunities, and a new syllabus of curated career events (called Career Core) to help students find work that they can be passionate about after graduation.
We have over 1600 alumni, and each year our vibrant and international base of support grows. We hope that it excites you to be part of a growing community of artists, writers, scholars, ad executives, program managers, political activists, consultants, musicians, acrobats, screenwriters, photographers, and whatever else. (STILL no astronauts–so if any of you have aspirations in the area of space flight, it might be better to attend that Physics Program instead…). But for everyone else, we hope that you'll accept our invitation!
Finally, please consider looking into these various resources that might give you a better idea about our community. And email us! I'm at ajaronstein@uchicago.edu and you can also email ma-humanities@uchicago.edu. We're happy to answer any questions that you might have about the program, about UChicago, or about our home in Second City.
Congratulations again, and we hope to see and hear from you soon,
A-J Aronstein (MAPH 2010)
Please also explore our website, where you'll find a lot of information about the curriculum, our program options, and about the experience.