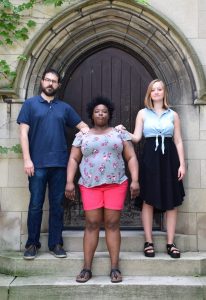 Welcome to MAPHtastic, a (hopefully) amazing and (probably) informative blog about all things (definitely) MAPH! We are your three program mentors, T, Brent and Annie, and we will be updating this blog throughout the year with information on upcoming events, advice on making the most of/surviving your MAPH year, fun things to do around Chicago and cool pictures of ourselves. We will also be posting on Facebook, Twitter and Instagram, so follow us there too!
All three of us graduated from the program this past June, and we are excited to be working in the MAPH office this year as a resource for all of you. We are here to help you with questions about choosing courses, interacting with professors and finding the best spots to grab lunch in Hyde Park (spoiler alert-it's Rajun Cajun). We'll also be planning fun social events to help you all get to know each other. Having just completed the program, we have endless advice on how to navigate this intense but exciting year (seriously, you will have to work to shut us up). Please come by and say hello when you get to Chicago, we love it when new MAPHers stop by! We look forward to meeting you. We will be here through the summer in Classics 117, and you can email us at lacyt@uchicago.edu (T), brentfg@uchicago.edu (Brent) and aewilliams@uchicago.edu (Annie).
Here's a bit about us!
Brent!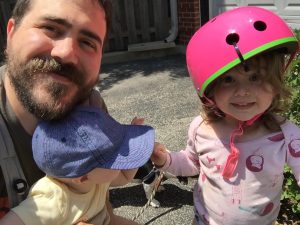 I grew up in a suburb of Chicago, went to school in Boston where I studied Philosophy, spent a year living in Oakland, CA, then moved back to Chicago.  I have been in Hyde Park for the last……8 years? Yes, 8 years.
I worked in Oakland selling humane-certified meat, then worked as a barista for a few years in Hyde Park.  I got an associate's degree in Veterinary Technology and worked for a few years as a Certified Vet Tech in the South Loop before applying to MAPH.
During MAPH I took a range of classes, including Creative Non-Fiction with Dan Raeburn, a Religious Ethics class, and a few English classes.  The MAPH Core class was one of my favorites, as was the Teaching in a Community College class.  One of the most useful  classes I took was the Little Red Schoolhouse (technically it's called Academic and Professional Writing).  They have a reader-centric approach to writing that really improved my own writing, and I got to work on my thesis as homework.
I'm interested in Philosophy, Animal Studies, Social Thought, and English Lit, and the current plan is to try to teach in a community college after this year.  My thesis was centered on Peter Singer's Animal Liberation, and studied the construction of pain in the book and the surrounding conversation.
I have two perfect kiddos who you will probably see from time to time, gracing social hour with their presence.  The intelligent, hard-working, beautiful young lady accompanying them is my wife.
Annie!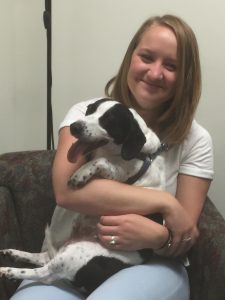 I grew up in Connecticut, and have been in New England for most of my life before moving to Chicago. I went to Holy Cross, a small liberal arts college in Worcester, Massachusetts, where I studied English and Classics. Though I focus on English now, I would love to chat with anyone about uses of the supine case in Latin or how badass Penelope is.
I spent my junior year abroad in England, where I developed a love for biking around small towns and dipping french fries (chips) in mayo. Through high school and college summers, I worked as a barista at a local coffee shop. I also taught English at a summer program at a boarding school.
While in MAPH I took six English courses, studying British, Irish and American modernist literature, and a continental Philosophy course about theories of boredom and repetition. I wrote my thesis about affective atmospheres in Virginia Woolf's "Kew Gardens," Mrs. Dalloway, and Between the Acts. This thesis gave me a chance to better understand the intersections of feminist theory, psychoanalytic criticism, affect studies, and modernist literature.
My biggest piece of advice for making the most of MAPH and the university would be to attend as many workshops, lectures and discussions as possible. During my MAPH year, I attended the bi-weekly 20th and 21st Century literature workshop, where professors and PhD students shared and discussed their current work on modernist and post-45 texts. Most disciplines and specialties have a workshop, so make sure you check them out. I also got to see one of my favorite theorists, Sianne Ngai, give a lecture on her brand new theory of the gimmick, and I attended a performance by poet Bhanu Kapil, in which she chewed and spit out a pink rose as part of her reading. U of C gets some really cool speakers, academic or otherwise, so take advantage of the opportunity to see them while you're here.
T!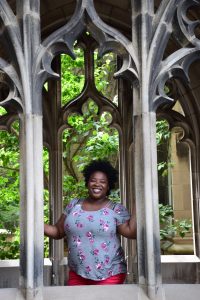 Hello future/present and other MAPHers!
My name is T, and I'm one of the Mentors this year.  I was raised in Washington State in the Tacoma area (if anyone knows where that is). I got my undergraduate degree from Western Washington University in Bellingham Washington, and I received a major in English literature specializing in African American Literature, and have a minor in music.
After I graduated, I hung around Bellingham for a few years and worked as a phlebotomist at a plasmapheresis place called Biolife. I worked a pretty typical 8 hour a day job there for about two years while I applied for graduate school. When I wasn't working at Biolife I was tutoring music theory, which I had been doing consistently for about 3 years. I guess I have a pretty specific set of skills—not in the Liam Neeson sense, but in the I-know-solfege-and-read-a-lot kind of way. In preparation to start MAPH in September, in August I moved to Hyde Park with my partner Alex and my cat Milo.
It was my first time moving away from my home state, which was scary, but it was incredibly rewarding. Acclimatizing was, and still is, hard. It's super humid and hot in the summer here, and I was, and still am, not used to it at all. However, the city is cool, the food is good, and the museums are amazing. The Shedd Aquarium, Museum of Science and Industry and the Art Institute are probably my favorite. If you haven't checked out these landmarks of Chicago, you definitely should. They're amazing and informative.
I graduated from MAPH in June, which was wonderful and stressful. MAPH is the hardest thing I've ever done, but it's also the best. I spent most of my time studying the Aestheticism and Decadence movement in England, but my real passion is African American Literature, and particularly Afrofuturism (black sci-fi). To those ends, I wrote my thesis entitled "It All Amounts to Slavery in the End—Motherhood in Beloved and 'Bloodchild'", on Motherhood as an institution in Octavia Butler's "Bloodchild" and Toni Morrison's Beloved and how Afrofuturism constructs motherhood and the black female identity. I worked with Adrienne Brown on my thesis, who is amazing.
While I'm a MAPH mentor for this coming year, I also teach at the Gary Comer Youth Center (GCYC) on the South Side Chicago with my friend Sean who graduated from MAPSS (Master of Arts Program in the Social Sciences) in June. Together we provide students with a social sciences and humanities based education on black history, social movements, and current activism. So when I'm not hanging out in the MAPH office, or sealing myself away at home, I'm probably there.
I'm really terrible at writing these kinds of things, but I'm always in the office if you want to come say hi!
Mylo!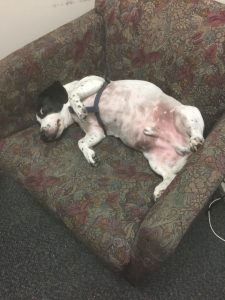 I'm Mylo, I grew up in Northern California, and then flew on a plane to Chicago.  It was kind of a big deal.  I spent my year in MAPH studying Dog Butt Smells, but I did not complete my thesis.  I have one trick, so feel free to drop by the office and see it, I'm here most days.
We will do our best to give you all some fun and useful blog posts, so check in often.  There's a comment section and we would love to hear from you, whether you have questions, suggestions for future blog posts, or if you just want to say hey.
Coming soon……things we read (or wished we read) in the summer before MAPH
Welcome to MAPH, we're glad you're here.