Things To Do
The Personal Edition
Last week we posted a more practical To Do List, with things like IDs and immunization forms. Hopefully we can intersperse those activities with some of the more enjoyable aspects of living in Chicago. Read below for ideas of how to spend the last couple of weeks of summer and hopefully relax a bit before we dive into Colloquium on the 14th!
1. Read about Chicago! This is a great time to find out about events here and to pick a news source for the year. Check out Chicago Reader, Time Out Chicago, or New City. There are also the long-standing Chicago newspapers, The Tribune and Sun-Times.
2. Go out into Chicago! August, Colloquium, and Fall Quarter are all fantastic times to explore this incredibly cool city.Revisit our past posts on CTA, Chicago Neighborhoods, and free summer stuff. Preceptor Anna Lee just told us about a great deal, where if you have a Bank of America credit/debit card, you can go to certain area museums for free on the first weekend of each month. Find out which here. 
3. Read for pleasure! Pretty soon, this will become hard. Not impossible, but unlikely. If you are in Hyde Park, check out the three awesome bookstores we have here- 57th, Powells, and the Co-op. Pick up something fun before you have to pick up Lacan.
4. A very fun and popular thing to do when you arrive in Chicago is the Architecture Boat Tour. Especially if you are new to Chicago, this is a chance to get touristy and to learn about the city. It is informative, fun, and there is a bar on the boat.
5. You can also stay local and go to The Point. The Point, aka Promontory Park, is a beautiful park at the end of 55th street. It gives a beautiful view of Lake Michigan and of downtown. Nearby, too, is the 57th street beach, one of several beaches in Chicago. In either place, dip a toe or two in the water. Unlike exploring Chicago, which you should do all year, this is a limited time offer.
6. And if you are staying local, check out the many museums in Hyde Park, all linked to in our Hyde Park Art Tour.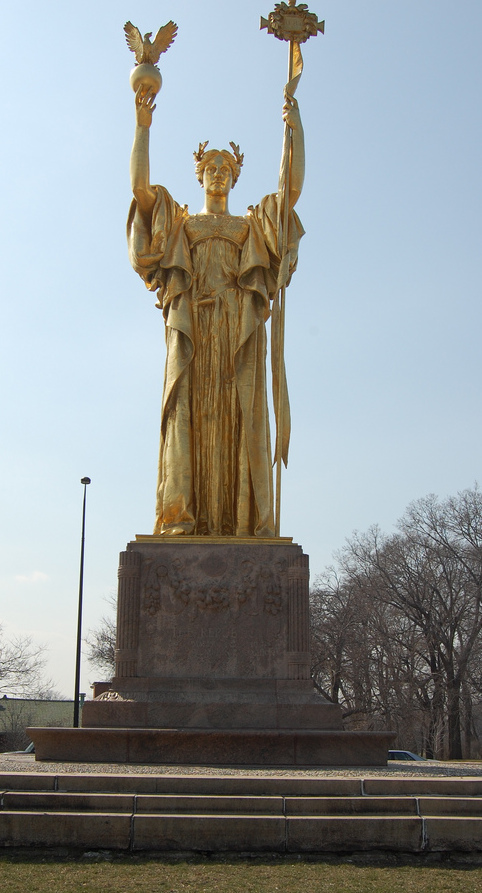 7. Also worth visiting, especially in the warm weather, is Jackson Park. Within Jackson Park is Osaka Gardens, which I only recently discovered and think is one of the most beautiful places in Hyde Park. Jackson Park also includes the peaceful Bob-o-Link Meadow and Wooded Isle. And just another incentive- The Golden Lady! Actually called The Republic, the Golden Lady is from 1918 but made out of a model from the 1893 World's Fair. And, fun fact, it was designed by the same man (Daniel Chester French) who designed the seated Lincoln in DC.
Jackson is a popular spot for running and even biking, as is the Point. But Jackson Park also has a golf driving range, so it is a center for the sports.
8. Try to hit up some kind of show, whether it is a concert, a play, a free movie in Millennium Park. On September 2nd, there is a cool performance of King John in a local bar that is definitely worth checking out!
9. Now is a fantastic time to move in and get settled in your digs. For tips on hanging/furnishing/buying stuff, check out our blog post on moving.  You don't want to start reading for CORE or trying to anticipate classwork. Instead, take care of yourself, enjoy some free time, and get some rest!