As lovely as Hyde Park is, it's useful and fun to get out into other Chicago neighborhoods throughout the year. We recommend trying a few during the summer after you move out here to see where your home-away-from-home in Chicago might be! To get you started, the office staff has thrown together a starter guide about a few of our favorite neighborhoods around town…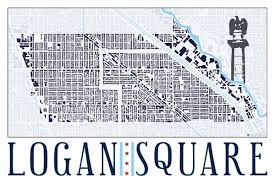 Logan Square (courtesy of Sarah Smith)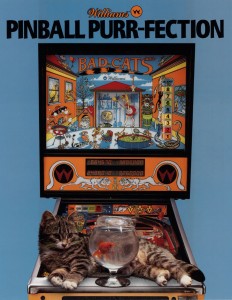 Logan Square is known as a kind of up-and-coming hipster mecca. Although it's getting progressively fancy (and expensive), there are still a ton of really fun, nerdy spots in the neighborhood. It's home to my favorite bookstore in town, Bucket O'Blood, a small bookshop specializing in used sci-fi, fantasy and horror books plus indie, punk and metal records. While their record selection is great (and blessedly small/manageable), my favorite record shop has got to be Logan Hardware with its secret vintage arcade museum in the back! And if you're a big arcade games fan, just walk a couple blocks over to visit Logan Hardware's new arcade bar, where the staff are friendly, the drinks cheap, and every game's a quarter. You just have to promise to play Bad Cats for me.
Lincoln Park (courtesy of Matt)
Lincoln Park is a nice neighborhood on the North Side accessible by the Red Line (by the Fullerton stop). It's home to DePaul University, so there are usually a lot of students out and about and a lot of fun places to eat, drink, and hang out.
T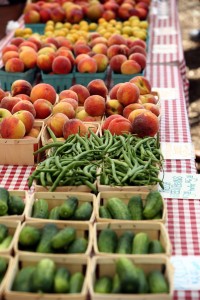 he Bourgeois Pig is a staple of Lincoln Park—it's a small café that has been around for more than 20 years. The Pig one of the nicest, coziest writing spots I've been to all year. They have great coffee, sandwiches (try the Secret Garden—avocado, tomato, cream cheese, and sprouts!), and other fare. It can get pretty crowded on weekends, but it's definitely worth waiting for a spot to hang out, enjoy a cup of coffee, and write to your heart's content. Floriole is another great Lincoln Park café. It's a bit further from the train, but the upshot is that it's generally less crowded than the Bourgeois Pig. They have excellent pastries and very good quiches as well, and the two-level space is very bright and open—an ideal venue for catching up on a little leisure reading! Lincoln Park is also home to Green City Market, Chicago's premier farmer's market (it's in the actual park). They're open Wednesday and Saturday mornings during the warmer months (May-October), and have an indoor market during winter.  If you want some fresh, delicious food, it's definitely worth the trek on a Saturday morning. We're also planning a MAPH outing here in fall!
There's some good entertainment in Lincoln Park as well. Lincoln Hall is one of my favorite concert venues in town. It fits about 500 audience members (so there's usually a fun crowd) but it's still small enough that the space feels very intimate. They book a lot of good, diverse acts and events (everything from Icelandic singer-songwriters to weirdo rap groups to John Darnielle's book release), and tickets are usually $20 or under. They also have a pretty good bar and restaurant in the lobby if you're hungry before or after the show. There is also the Lincoln Park Zoo—I must admit, I've never been to there, but if you like baby zebras, bears eating birthday, or this little guy, it's probably worth a visit!
Wicker Park (courtesy of Lucy)
You know Wicker Park is cool because the minute you step down from the Damen Blue Line Station, there are two doughnut shops just waiting for you (Stan's and Glazed and Infused).
Wicker Park is becoming  gentrified, so it has a nice mix of nicer spots alongside older gems. In the 1900s, Wicker Park was nicknamed the Polish Gold Coast and known for its Russian and Turkish Baths that populated Division Street.
Although there are less baths now, there are a number of bars and restaurants in the area. Wicker Park has two of my favorite bookstores as well, Quimby's is a famous comic bookstore, known for its local authors, there is and amazing selection of used books at Myopic Books. It is easy to hit up one or both bookshops and then sit down in one of Wicker Park's great coffee shops. One of Matt's favorite coffee shops is up there- Wormhole. The neighborhood also boasts good roasts at Filter and Caffe Streets.
I also recommend Wicker Park for thrifting, whether it is clothes, apartment stuffs, books (remember Myopic?), or gifts. I went up there with some MAPHriends last September and we all found great, and inexpensive, stuff.
Uptown (courtesy of Matt)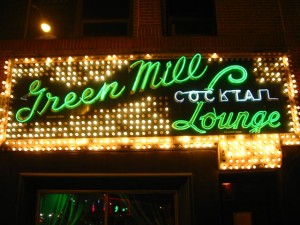 Uptown is another North Side neighborhood that is a little less gentrified than Wicker Park. It's got some great entertainment—The Green Mill is one of the highlights (just off the Lawrence Red Line stop), and a must-visit for any jazz fans out there. Once owned by an Al Capone associate, this club has a ton of history and hosts world-class musicians every night of the week, in addition to the occasional poetry slam. Go there, grab a cocktail, and soak up the jazzy ambiance.
Apart from the Green Mill, there are some big music venues off the Lawrence stop, including the Aragon Ballroom (lots of dance music and the occasional boxing match) and the Riviera Theatre (see Chromeo, tUnE-yArDs, or the New Pornographers this fall). These venues are on the larger side (both have over 2500 capacity) and put on some very cool shows with high-profile acts. The Neo-Futurists are an ensemble-based theater company off the Argyle stop. They do lots of cool work that "draws upon Dada, Surrealism, and the work of the original Italian Futurists." Go check out Too Much Light Makes the Baby Go Blind, their longstanding weekly show, which features 30 original short plays performed in 60 minutes.
Summer is a great time to get out and see some more of Chicago, so go forth and explore!