One of the easiest and most reliable ways to get around Hyde Park is a bicycle. Even Chicago as a whole is pretty bike-friendly, with the beautiful path from Hyde Park up and along the lake to North Side neighborhoods like Lincoln Park. It is a beautiful ride and surprisingly fast, since there are no cars to wait or watch out for. Even just within Hyde Park, a bike can be a quick and easy way to get to campus, grab groceries, etc.
So, where are these so-called bicycles and where do I put my hands on those handle bars?
Easy places to find your two-wheeled transport are Craigslist and the UChicago Marketplace, which is also a good resource for apartment furnishings. But I had a couple of friends who bought bikes at the Blackstone Bicycle Works, aka Blackstone Bikes, which you can find on 61st and Blackstone (also where the Hyde Park Farmers Market is on Saturdays).
These guys are very cool and not only fix up bicycles, but also run a youth education program to promote business literacy, mechanical skills, and ecological practices. They put a new batch of bikes up for sale every Saturday and have plenty of variety.
Also within Hyde Park, are the wonderfully named Dj's Bike Doctor and the 53rd Street Bicycle Center. Obviously places outside of Hyde Park also sell both new and used bikes. Past MAPHers have had luck at Working Bikes and West Town Bikes, though undoubtedly Chicago offers many, many more.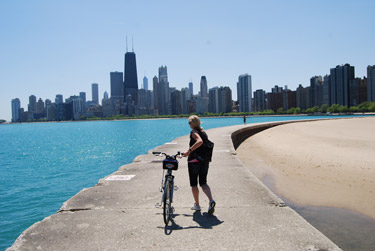 If you do buy a bike, we recommend you also purchase a lock, keep it indoors at night, and register it with UCPD. Or if you want to be blue when you go green, you can also check out Divvy, a bike-share program. You'll see Divvy bike stations all over the city and can find out more about cost, time, and location right here: Divvy.