MAPHCentral received a sweet surprise in the form of homemade chocolate walnut cookies (yes, time to go to the office and grab some and finish reading this later) from Robyn Johnson, MAPH '13.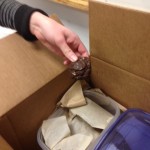 She also included this sweet, knowing note (emphasis by the office):
Dear MAPHians, 
Please enjoy these chocolate walnut cookies –sprinkled with Maldon Sea Salt Flakes! I had originally intended to send cookies much sooner in the year. And then my first batch came out more like pancakes. Even these aren't perfect–a little dry, if you ask me. There's a fairly unsubtle metaphor about your theses being crafted here. The point being the cookies are still delicious (and relatively on time), and your theses will be great and on time. Seriously, you guys have to turn them in on time.
So congrats on making it through winter quarter! It's the homestretch. 
To the staff: keep on doing as you do! 
Best, 
Robyn MA'13
Robyn is a writer currently living in LA.