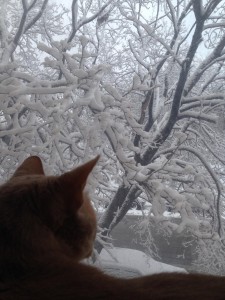 It was 50 degrees Monday. The snow/ice was melting, the sun was peeking out, undergrads were wearing shorts. Sure, now it looks like Gethen out there, but it's still almost spring. I don't need to tell you that with Spring comes some important deadlines (like the thesis), but never fear, you have time to start thinking about things. And we are here to help.
There is a detailed list of this summer's MAPH internships  below. But first, here are some dates to put on your calendar:
Spring Break Thesis Write-In: March 24-28 (I cannot recommend this heartily enough! More info & registration here.)
Mentorship/Internship/Externship Application Kickoff: Friday, April 4 at Noon (location TBA). Come ask us questions about these offerings!
MAPH Resume & Cover Letter Workshop: Friday, April 11 at Noon (location TBA)
Internship and Mentorship Application Deadline: Friday, May 2
Keri, Tavi, and I will likely have new office hour slots next quarter, but we are around next week!
Keri: Thursday, 3/20 from 9 until 11 am
Jessi: Wednesday, 3/19 from 2:30 until 4:30 pm
Tavi: Thursday, 3/20 from 1:30 until 3:30 pm
We are also available during other times, so please do not hesitate to reach out if you would like to meet but can't make our office hours. Also, Mearah will be having open office hours over at Career Advancement from 3-5 pm every Thursday next quarter. We definitely recommend stopping by to see her!
And now for the internships themselves…
Browne & Miller Literary Associates
Browne & Miller Literary Associates is Chicago's only full-service, independent literary agency. They currently represent authors writing in most genres of commercial adult fiction and non-fiction, as well as select young adult projects. As a hands-on, editorially-focused agency, the agency works closely with clients in developing manuscripts and proposals for submission and sale. Interns at B&M are exposed to all aspects of agency work.
Duties range from basic clerical tasks including typing, filing, and packing and shipping to reviewing query letters, reading and evaluating manuscripts and proposals, conducting market research, and more. Last year's intern, Molly Foltyn, now works full time at Browne & Miller; you can read about her experiences as an intern here. Other fun facts: the internship coordinator is a MAPH alum, and MAPH Alum and former Browne and Miller Intern, Anna Jarzab ('07) published her first novel, All Unquiet Things with the agency. If you have any interest in getting to know the publishing world, apply!
Chicago History Museum
The Chicago History Museum is located in a beautiful part of Lincoln Park and, according to its website, "stands at the crossroads of America's past and its future." This internship should be of interest to anyone looking for curatorial experience. As a Curatorial Intern, you will be part of a team that provides support for the expansion of the Museum's digital collection portal. Interns will work with collections and curatorial staff to conduct content and collections research and create new expanded descriptions of existing collection items for eventual inclusion in the digital repository, which offers public access to collection records and images.
The internship may include a variety of other research projects as well, including support for developing exhibitions and new acquisitions. If you are interested in this internship, be sure to check out Deborah Blumenthal's ('11) reflection on the internship from a few summers ago. Her experience is especially interesting because her professional and academic interests lie in Theatre, yet she found the internship to be a great fit.
Illinois Humanities Council 
The Illinois Humanities Council (IHC) is devoted to building a more enriched Illinois by promoting critical inquiry, empathy and civic engagement through involvement in the humanities. The Illinois Humanities Council works to bring the humanities to all state residents, regardless of their economic resources, cultural background, or geographic location. One of IHC's big projects is The Odyssey Project (which hosts a separate internship–see below). The Communications Intern at IHC this summer will work directly with IHC staff to support various programsand the organization's overall mission.
Internships at IHC are designed to take advantage of each intern's specific skills such that, by the end of the internship, interns will have been exposed to the various aspects of an organization steeped in the state's arts and culture world.  Last year was the first year MAPH hosted an internship at IHC; you can read about Jeff Gilliland's experience here.
Newberry Library
For those of you who have not yet had the chance to visit this beautiful book palace, The Newberry Library is an independent research library which is open to the public and "dedicated to the advancement and dissemination of knowledge, especially in the humanities." Sounds pretty MAPH, right? If you are at all interested in archival work, definitely apply for this.  This summer's intern will have the chance to–as much as possible–design a project related to their own interests. Reporting to a Newberry archivist, the Manuscripts and Archives intern will participate in the preservation, arrangement, re-housing, and description of Modern Manuscript collections focusing on the cultural, social, political, and economic history of Chicago and the Midwest from settlement to the present day.
Areas of special interest include literature, the performing arts (dance, theatre, and music), journalism, politics, social activism, railroads, religion, and travel. For more information, you may want to read this post by Liisa Freeh, on of last summer's interns.
The Odyssey Project
A core program of the Illinois Humanities Council, The Odyssey Project provides college-level instruction in the humanities through seminars led by professors at top-tier colleges and universities.  The Odyssey Project offers free courses in philosophy, literature, art history, and history for men and women living below poverty level.  Students receive six units of transferable college credit. The Odyssey Project offers a first-year course, a Bridge Course for graduates of the first-year course, and a Spanish language course. The internship involves teaching, administrative work, and bringing a student-made magazine to life with blood, sweat and tears. MAPH's own Hilary Strang has instructed courses with the Odyssey Project for a few years now, and she would be happy to answer any questions that you may have about the internship, or about the Project in general. You can also check out insightful posts from past interns here and here.
Rafael Torch Fellowship
This fellowship, named in honor of Rafael Torch, writer, teacher and MAPH alum from 2005, is now in its third summer. It funds an otherwise unpaid position internship in any non-sectarian, non-profit social justice, community-building, or other service- or outreach-focused organization in Chicago during the summer after graduation. In other words, designing this one is up to you! The fellowship is intended to promote connections between humanistic inquiry and service work outside the academy in the city of Chicago.
Last year's recipient was Nicole Rea, who worked with the Transgender Health Team at Howard Brown Health Center (HBHC) last summer.  You can read about her experiences here.
The Smart Museum
I imagine that many of our art historians will be excited about this one, but really anyone interested in working in marketing should apply. The internship offers a chance to get broad arts communication experience while assisting the Smart Museum of Art's external relations team with new and ongoing projects. The intern will engage with visitors through social media, do research related to the Smart's newsletter, annual report, and out-of-print exhibition catalogs, and develop communication plans aimed at the UChicago community that will promote the Smart's events and programming.
Other day-to-day activities may include: writing and editing content for the Smart Museum's quarterly newsletter and other channels, producing event flyers and other promotional materials, composing e-mail campaigns, and providing other communications support as needed .  You can read Diego Arispe-Bazan's (MAPH '11) account of his internship here.
–Stay tuned for more info, including more about MAPH's partnership plans with Newcity magazine!