Translation, poetry, presses, Singapore, publishing… Read on for Hao's hour-by-hour (more or less) account of one whirlwind afternoon and evening behind the scenes at AWP.
12:30pm
It is the second day of conference. I meet fellow Singaporean, friend and mentor Alvin Pang. It is always nice to see a familiar face in an unfamiliar place. He is with Drunken Boat editor Ravi Shankar and other members of his staff. I listen in on their plans to make Singapore literature take over the world. Ravi wants to feature a folio of Singapore poetry on Drunken Boat, and Erica Mena pitches a multi-journal collaboration to bring world poetry to the forefront of the literary-journal consciousness. The excitement is palpable.
1:30pm
Lunch at a sushi place. As we talk, the lady a table away asks if we are from Singapore. Turns out she is Kirstin Chen, author of the novel Soy Sauce for Beginners and also from our island, now based in San Francisco. Our accents are unmistakable. Ravi invites her to the Drunken Boat reading in the evening.
3pm
Alvin drags me to a panel discussion honoring the life and work of David Waggoner. His "Our Bodies" brings the crowd to a reverential hush.
4pm
We rush down (up?) to the Westin for an intimate meeting with the people behind Two Lines Press. They are concerned with translations, and Alvin gives its editors a lowdown on Singapore – 4 major languages and literary traditions, and not enough translations to go around. Here I meet Mehmood, an Iranian poet living in exile in Mexico City. He is working on translating 19th Century world poetry into Persian. We make plans to meet up when I am in Mexico for spring break.
6pm
Drunken Boat is hosting a dinner, and Ravi is late. After wandering around slightly lost, Ravi, Alvin and I find the Place Pigalle restaurant and meet the rest of the Drunken Boat crew. I talk mostly to Brynn, a Yale alum who works with Kindle Direct Publishing. She takes care of German writers that her company wants to publish in English. I ask her if Kindle cares for bookstores; she asks me what Singaporeans think of Yale-NUS.
7pm
Our last stop is the Drunken Boat reading, held in conjunction with Ugly Duckling, Ahsahta and Les Figues Presses. Every poet is different and luminous, of varying ages, ethnicities, nationalities, and styles. No-one seems to mind that it goes on for hours and hours. I sit on the floor. A Japanese poet talks about ants, wry and knowing. A farmer reads splayed out on the floor. Alvin memorizes his poems, and reads a piece in Singlish, the local dialect. Kirsten and I share knowing looks.
9:30pm
On the bus, smelling faintly of free alcohol, I realize that what goes on behind the scenes at AWP is vital. The English-speaking world is eager for stuff outside its borders, and interest in translation is growing. I have been very privileged to get a glimpse into this space at the limits of a single language.
—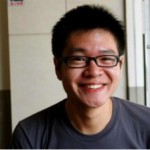 Hao Guang is interested in form and formation, creativity and quotation, lyrics and line breaks. His poetry has appeared or is forthcoming in Prairie Schooner, Tincture, Softblow and Third Coast. He has published a chapbook, hyperlinkage, with Singapore-based Math Paper Press and is working on a full-length collection.