A five-day excursion to (surprisingly) sunny Seattle with friends and colleagues left me with a myriad of stories. Where do I begin summing up my experience at the Association of Writers and Writing Programs conference? From my first time in a hostel, to drinking "Unicorn Jizz" at a psychedelic Victorian bar, to witnessing first readings and being surrounded by thousands of people all in a writerly state of mind, it's hard to pick my favorite part. So instead, I'll focus on what impacted me the most.
The topics and discussions of women as writers. 
For the rest of this post, visit Sabrina's blog!
—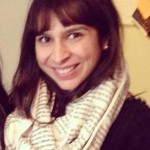 Sabrina is currently writing a novel and working on a critical component studying feminism and patriarchy through Twitter. Prior to MAPH, her spare time interests included cooking, exercise, and reading. Now you can find her napping frequently or seeking out the best taco and burger places in Chicago.