Winter and its Quarter are here, along with some somewhat sinister trappings (aka -50 degree windchill!).  I sincerely hope that everyone is in an apartment under at least one blanket right now.
As you know, classes and non-essential activities have been canceled today due to already record low temperatures and a dangerous windchill.  A good part of the city is shut down as well, which is more than a little unusual, so this is no joke.
Please try to stay indoors today. If you are planning to step out, keep an eye on the National Weather Service's updates.  You can also sign up for alert texts from the City of Chicago's Extreme Weather Notification system and keep tabs on closed businesses and facilities on the Emergency Closing Center's site. WBEZ is also following cold-related happenings throughout the city. Finally, you can track UChicago-specific closings at UChicago News.
If you do need to step out for groceries and/or essentials:
Hyde Park Produce is open for regular hours.  There is no delivery today.
Treasure Island closes at 2 pm.
TransLoc is tracking transit movement in Hyde Park, but it also warns that shuttle and bus services might be suddenly suspended or interrupted throughout the day.
For those of you who are new to the cold (or new to this particular brand of wow-my-sneeze-just-froze-cold), here are some general tips for keeping warm and comfortable in the welcoming and kind Chicago climate (veterans feel free to leave more tips in the comments!!):
PETS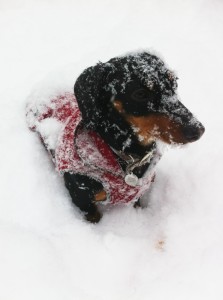 Dogs and cats are susceptible to frostbite and hypothermia in winter weather, not to mention antifreeze poisoning and injury from salted sidewalks.  The Tribune published some general advice about keeping pets safe this winter a few days ago.  You can also find a list of winter-ready shops serving all kinds of animals in Chicago here.
FOOD
Foods rich in Vitamins B, C, & D, Omega-3s, and Magnesium are all helpful for fighting winter woes, so make sure you're snacking on leafy greens, nuts, and eggs over the next few months.
And, if you live like me, you'll need at least one easy and delicious mac and cheese recipe to get you through the season, not to mention one for slightly boozy tomato soup.  Finally, I'm pretty sure that Martha Stewart compiled this list of ginger & spice cookie recipes specifically for procrastination-bakers.
If it's a day like today, and you can't leave to house for supplies but are in desperate need for some winter comfort food, check out this recipe for spaetzle.  It will make a mess, but all you need is flour, eggs, and milk!
DRINK
Presented without comment: 
CLOTHING
You've probably already heard this, but: layer.  Layer, layer, layer, layer, layer your clothing.
I sometimes get overzealous in the morning and end up feeling like a flotation device, but if you're savvier than I, your clothing pile will function like this: a base layer (on your skin) made of a wicking material  will keep you snug and dry, insulating layers (e.g. sweaters) will trap heat, and protective layers (like coats) will face the outside air and elements.  
If you go out today, try and cover everything–including your face.  With the way things are going, I am seriously considering investing in a ski mask. Don't judge me.