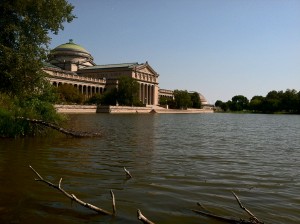 It's summer. The weather is nice. And you have a few precious weeks of freedom left before the MAPHstorm arrives. If you're in Hyde Park for the summer, this is a great time to explore the area and get your bearings, and to enjoy what is in my opinion one of Chicago's most underrated little neighborhoods. With that in mind, here's my vote for a perfect summer day in Hyde Park:
9:00 Breakfast and Coffee, Z&H MarketCafe (optional)
So OK, full disclosure: my perfect summer day would probably start with a few hours of extreme laziness and a bowl of Mini-Wheats. But if you're a coffee drinker and/or want to eat real breakfast like a self-respecting adult, I can recommend Z&H on 57th St. They have a range of bakery and deli items, as well as a nice little breakfast menu, plus some of the better coffee that Hyde Park has to offer.
10:00 Museum of Science and Industry
Honestly, you could spend an entire day in here. Yeah, it's a little expensive, but it's well worth the price of admission. The museum includes everything from a captured German U-boat to an interactive tsunami simulator, plus a gigantic train set and a miniature tornado. Plus, it's a magnificent building even if you never set foot inside (see above). In this case, we're making a brief stop of it because we have to get to…
1:30 Picnic Lunch, Promontory Point
Just north of the museum is Promontory Point, an inviting little green space that affords one of the South Side's best skyline views. The park is well-maintained and not terribly crowded, so it's easy enough to find a picnic table and watch the waves while you eat. Promontory Point is also a great spot to read when the weather's nice. Be careful though – wind over the lake can make for very low temperatures even on otherwise moderate days. If you plan to spend any significant length of time on the Point, especially as autumn approaches, it's not a bad idea to carry an extra layer with you.
3:00 Stroll through Wooded Island and Osaka Garden
After lunch we walk past the museum again, this time on our way to Jackson Park. The Wooded Island, right in the middle of the park over a small pedestrian bridge, is a spectacular birdwatching spot with a peaceful, secluded vibe despite its urban location. In the last few months alone, I've seen Baltimore orioles, night herons, red-tailed hawks, red-winged blackbirds, and a pair of great blue herons. Butterflies and fish are also on offer. The best part of the island, though, is the Osaka Garden. This little gem of landscaping is almost always devoid of tourists, and makes for a restful, shady afternoon watching leaves rustle.
6:30 Dinner, Clarke's
Alright, our dinner spot is a bit of a walk from Jackson Park, but the walk takes us past  Robie House, so it's worth the trip. After admiring some of the finest architecture in the city, we can forge ahead to Clarke's. Clarke's is, I know, not the classiest joint in the neighborhood, BUT: they do a superb bacon cheeseburger, their burritos are reliably delicious, and they serve breakfast 24 hours a day. Really, what more do you want?
8:30 After-Dinner Drinks, Jimmy's
Jimmy's is a perennial favorite among UChicago grad students, and with good reason. The booze is cheap, the space is copious, and the selection is respectable. You might not find your favorite organic small-batch craft brews here (see Ida Noyes Pub for that), but you can definitely find something you'll enjoy, and the atmosphere is perfect for a few low-key pints.