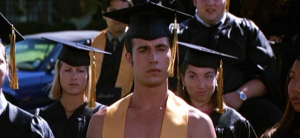 How do you spend an entire weekend entertaining the people who spawned you?? … Have them take you out to fancy dinners, of course! What else are parents for?! (Oh, you know, besides emotional support, practical advice and general life-promoting things…) Here at MAPHCentral, we've compiled a few things we think parents and family will go gaga over – when they're not going gaga over YOU IN YOUR FANCY CAP AND GOWN WITH THE ULTRA-PRACTICAL WING-BAT SLEEVES!
STUFF TO DO IN HYDE PARK:
Show them where you've spent the last year of your life! The best way to do this is obviously to take them to all of the Hyde Park places that you have never been to before.
Robie House
Ok, so while you've never technically been inside the Robie House, you've totally walked by it like a bajillion times. No big deal. Just one of the most important pieces of modern architecture in the country. Just chillin' in your nabe, being all monumental and stuff. Tickets for guided tours go for $15 a pop, but it's well worth it. Buy your tickets in advance – especially if you plan to go at any point during Convocation weekend.
Harper Theater
The nostalgia of a movie-outing with the fam without the hassle of getting downtown. Head to Hyde Park's new Harper Theater and perhaps take in a showing of The Internship. Then you can rub it in your grumpy uncle's face that people with all KINDS of degrees don't always get paid for hard work and this is not specific to your shiny new Master's Degree in the Humanities.
STUFF TO DO OUTSIDE OF HYDE PARK:
Get the hell out of here! Sure, Hyde Park is wonderful, but you know what is NOT wonderful? Parking restrictions and not being able to move around in your own neighborhood because it is teeming with like 4 times as many people as usual. Plus, it's fun to show off this wonderful city of ours to friends and family – and who doesn't love the chance to be a tourist from time to time?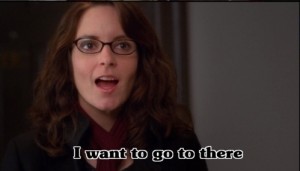 Shedd Aquarium
So, the Shedd is a place that I've always wanted to go to, but I've never been able to justify the price of admission (I'd be able to justify it if someone else, i.e. parents, were paying for it). But my parents don't really dig penguins as much as I do (sorry for outing you to the internet, Parents), so this was never high on their list of things to do. Even though it's the largest indoor aquarium in the whole freaking WORLD. SO PLEASE JUST GO AND THEN TELL ME ALL ABOUT IT. And hey, if you "accidentally" slip a penguin into your backpack and you "accidentally" give it to me as a gift… that wouldn't be so bad, either.
Chicago Architecture Foundation River Tour
You guys have noticed what a cool freaking city we live in, right? The CAF River Tour is one of my favorite things to do in Chicago – even though it's pretty touristy and it demolishes the air of "native-cool" that I try to maintain at all times. If it's a nice day out, this is a great way to get the family together, gather a little architectural/historical knowledge and enjoy the Chicago breeze. Also, you get to sit down the whole time, which means that it is more "low-impact" than other types of touristy things. In other words – good for grandparents, good for hangovers… provided no one's susceptible to sea-sickness. (Why are you drinking when you should be hanging out with your parents?! Geez, MAPHers!)
(Disregard what I just said and) Go Get a Drink at the Top of the Hancock Tower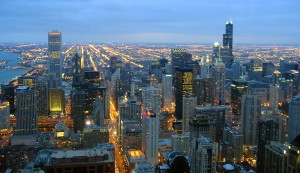 Something non-height-fearing parents are sure to gobble up! Grab a drink at The Signature Lounge on the 95th Floor of the Hancock Tower. I honestly cannot attest to the cocktails, themselves, but the view is supposed to be magnificent. Seems just as good a place as any to toast to your success! If you decide to make reservations, be sure to call the Lounge and not Signature Room, unless you are planning on staying for dinner. ("I'll have the Halibut with a side of Vertigo, please?")
STUFF TO EAT OUTSIDE OF HYDE PARK
This is a must. Sure, the Medici has it's charm, but it does not necessarily inspire CELEBRATION, per se. Chicago is chock full of amazing restaurants so you have plenty to choose from, but here are some that we think are particularly parent and family-friendly.
Piccolo Sogno (464 North Halsted Street // 312.421.0077)
Piccolo Sogno is tasty, reliable Italian food at a reasonable price point. It also has a pretty extensive menu, so everyone is bound to find something that they like. There is LOTS of yummy Italian around the city (other mention-worthy contenders: Quartino and Vivo), but we think Piccolo Sogno is great because it's not going to break anyone's wallet, but it's still going to be delicious. But, it does get crowded, so try to call ahead or get there early and be prepared to wait. Also worth checking out their sister restaurant, Piccolo Sogno Due (340 North Clark Street // 312.822.0077) – a little less crowded, but no less delicious.
The Publican (837 West Fulton Market // 312.733.9555)
The Publican is one of those places that screams "CHICAGO!" Beer, sturdy wood paneling, and MEAT MEAT MEAT MEAT MEAT. Owned by the same team as Blackbird and avec, The Publican delivers the elevated food that we expect to find in Chicago's best restaurants in a more casual setting.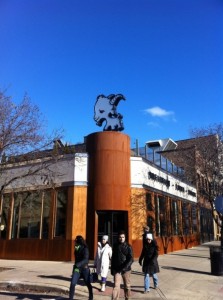 The Girl and the Goat (809 West Randolph Street // 312.492.6262)
Arguably one of Chicago's best (and definitely most sought-after) restaurants, The Girl and the Goat usually books reservations months in advance. So don't even try. But, here's a dirty little secret – their reservations don't start until 6:00pm, even though they open at 4:30. So if you arrive then, they will seat you if you promise to give up your seat at 6:00. Glamorous, right? But so worth it. If you don't feel like doing the whole Early Bird Special thing at a place that is supposed to be ultra-hip, you could always wait it out at the bar. Or, better yet, check out Little Goat – the Diner off-shoot of G&G. It's still new-ish and has Chicagoans abuzz with its creative and more homestyle menu.
We have plenty more recommendations under our belts if none of these sound like they'll fly with your clan. Drop by the office and pick our brains! (Also, where did you all goooooooooooooo???? **whines** We are lonely and we miss you guys! But, alas, we are very proud of you all…)