A dispatch on the Boston AWP Conference from Charlie Puckett (MAPH '13 ) Creative Writing Option
The 2013 AWP Conference & Book Fair is held at John B. Hynes Veterans Memorial Convention Center in the Back Bay streets of Boston. Once most people finish reading the center's name, they take a nap and then go inside. In the 193,000 sq. ft. building there are 8 billion people and they have all written a book or a poem or frequently have creative ideas. These people walk around many tables that also have books and magazines and ideas on stickers and people who have jobs sit behind these tables and say many nice things to those who do not. UChicago's MAPH program has a table at Booth 2811 on the second floor and there are very good looking people behind it, which is necessary because there are lines to meet them and less attractive people might not be able to manage the task as well.
On Thursday night at 6:30, the 2013 Keynote Presentation, a conversation between Nobel Laureates Seamus Heaney and Derek Walcott moderated by Rosanna Warren, celebrated the successful opening day of AWP Boston. Warren declared the conversation a draw on the account that no one could understand their accents, though most favored Heaney as the winner due to his ability to make speech sound like a fawn lapping water from a brook in solstice moonlight. Everyone agreed, however, that it's a good thing both Laureates use the medium of writing for their art and that Walcott had a mustache but Heaney did not. On Friday afternoon, Don DeLillo gave a reading from his work and participated in a conversation with himself because everyone in the audience was very busy whispering: "It's Don DeLillo, It's Don DeLillo."
When not looking at famous people's faces making speeches, AWP attendees have the opportunity to browse hundreds of booths and tables that support and contribute to the international community of writers and believers. The conference is a testament to the diversity* of thinkers dedicated to laboring for an art. Most of the art here will remain art that no one ever reads and history will phase over the canon with the sound of wind in a maritime painting. But the beautiful thing is that here every person is a big deal to at least one other person in the world. That is why someone published their work, because one person believed more people should know how they see the world. AWP is an Additional-Mother Depot™ where people come to have just one, if only one other person who thinks what they did is special. And it is remarkable.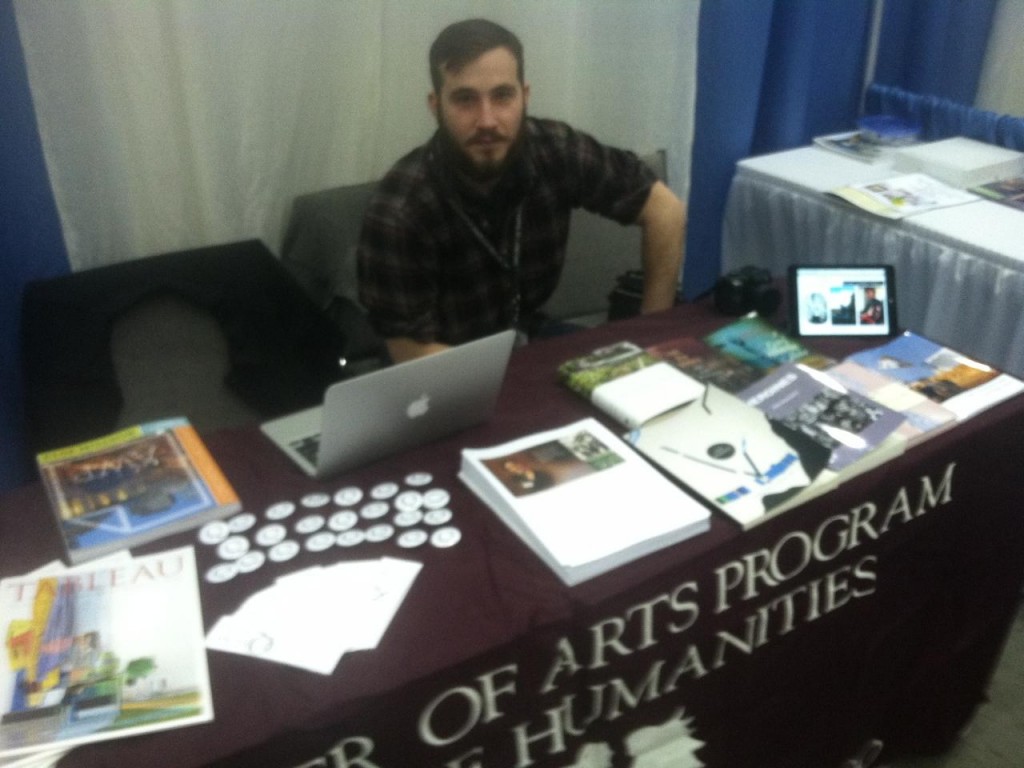 *AWP would like to remind all those who were unable to attend this year that it encourages diversity and the participation of individuals in its activities regardless of race, ethnicity, sexual orientation, gender expression or identity, opinion towards modernism, socioeconomic status, propensity to use the word 'vulgar' before nouns with productive suffixes, age, disability, or religious or political belief. Someone suggested that this would be a very good policy for the American government to practice and another person made a note to make sure to mention it to Congress after the conference was over.
"Charlie Puckett is fervently enjoying his time at AWP Boston with special friends from MAPH."