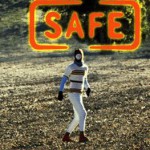 On Sunday, September 16th, at 3:00 PM, your MAPH year officially begins.
You are cordially invited, by which we mean strictly required, to attend a screening of Safe (a film by Todd Haynes).  This screening will take place in Social Sciences 122.
We recognize that the twofold being of this event (it is, after all, a social and a professional occasion) can make it difficult to know what the expectations are, both as far as human interactions go and for appropriate attire.  The unknown is, of course, terrifying and frustrating when you can't decide what to wear because no one told you about the dress code.  Or if you just can't find what you know you want to wear.  On the sartorial front: don't worry.  There is no dress code for the barbecue. Just please don't shock us.
You should not worry either about how to approach the social/professional aspects of the barbecue.  Simply, when thinking about how to comport yourself, remember that you will be seeing A LOT of the people with whom you are interacting, instructors and staff and students alike.
Also, you are more than welcome to bring those people in your life who are near and dear to you. Please note, however, that the MAPH barbecue is neither romantic nor "sweet," so don't bring a "date" (i.e. first, blind, craigslist "missed connections," etc. You get the point.). Only unpleasantness will result. Don't ask me why.
We here at MAPH look forward to seeing you all on Sunday.