5. GARGOYLES AND OTHER CARVE-Y THINGS
While the temptation to walk around campus hunched over a book, a smartphone, or an existential crisis is strong, raise your eyes to the walls and parapets! History is chiseled into the walls at UChicago. Many chunks of stone have been transformed into gargoyles, thinkers and scholars of ages past, and a variety of adorable/creepy animals.
4. GROUNDS OF BEING'S "BATTLE OF THE GODS"
Throughout the year, the much-beloved Div School coffeeshop, Grounds of Being, hosts a series of showdowns between various personalities/characters/concepts/deities. As with political contests, the one with the most money (read: your tips) wins the round and advances to the next level. In the words of Connor MacLeod of the Clan MacLeod, "There can be only one."
3. MANUFACTURE NOSTALGIA: WRITE IN (YOUR) BOOKS
Write in your books! If you want. I mean, you don't have to. But it's awesome. And in later years, it will give you something to cringe about when you read the thoughts of your younger self.
Do not write in library books. It's a terrible thing to do. Also, you kids get off my lawn!
2. THE GREAT AND VARIED HISTORY OF THE MIDWAY PLAISANCE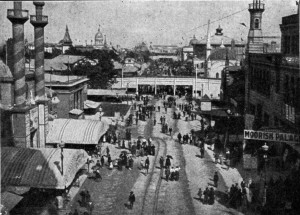 I'm not entirely sure how to say it either (play-ZAHNCE?), but "the Midway" was a central location in the famed World's Fair of 1893. The world's first Ferris Bueller Wheel was built on the Midway for the fair, and now there's an ice-skating rink (upon which I durst not set a sharp-bladed foot lest my face be drawn inexorably and at great speed toward the ice). And speaking of bloody messes, check out Devil in the White City – the story of Daniel Burnham, architect of the World's Fair, and Dr. H. H. Holmes, one of Chicago's most notorious serial killers.
1. WILD BIRDS WILL PROBABLY KILL YOU
—or—
THE FERAL PARAKEETS OF HYDE PARK
The first of them was spotted back in 1973—little feathered blobs of green squawking out of Hyde Park's trees. These feral monk parakeets, likely escaped pets, managed to survive Chicago's winters despite being South American in origin. By 1979, they were nesting wherever they could and breeding like crazy. They can still be seen quite often and, unfortunately, heard. Birders identify about a dozen different vocalizations from the birds, including their primary call—"Eeeeeh! Eeeeeh!"—which is exactly as annoying as it sounds. Nevertheless, they're almost as great as the squirrels.